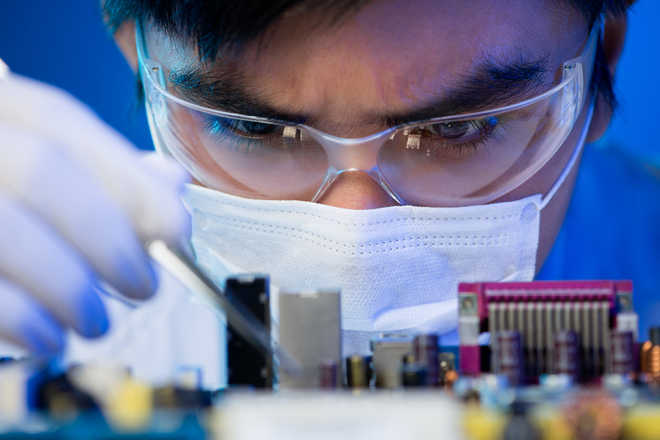 vermaajay1968@gmail.com
Shikha Arora
Semiconductor processors are also called process technicians. They are mainly responsible of quality control in the manufacturing of semiconductors. They troubleshoot the equipment in case of any problem and also test the completed chips to ensure proper functioning. Semiconductor professionals work for government associations, universities, MNC and small organisation that produce microchips for a particular market.
These technicians supervise the manufacturing process of electronic semiconductors, which are ordinarily known as integrated circuits or microchips. These microchips are found in every single electronic device like mobile phones, cars, and portable computers (laptops, tablets).
Skill set
A semiconductor professional must have the knowledge about raw material, production processes, quality control, various techniques that can help in increasing the production.

He must understand the chemical composition, structure as well as properties that are required in developing a semiconductor device.

These technicians set and modify controls to direct the manufacturing process of hardware's capacity level, temperature, and different procedure parameters.

They also adjust the procedure hardware and fix as required during the manufacturing procedure and test the completed microchips to guarantee they work appropriately.
Opportunities
There are many career opportunities in this industry. Job opportunities include Field Service Engineer, Test Technician, Integration Engineer, Product Support Engineer, Project Coordinator and so on. The semiconductor business is driving the best time of advancement ever. Without semiconductors, the innovation that we depend on consistently can't be possible. A professional in this field can get the job in Intel, Samsung, Qualcomm, Taiwan Semiconductor and many more.
Educational profile
A student must opt the computer science, math s and physics and chemistry as the main subjects in high school. Physics as well as chemistry will enable a person to comprehend a considerable processes that are involved in developing semiconductors and its components.
As this is a skilled training and certification course, it tends to a critical requirement for developing a prepared, highly innovative workforce in India to help fulfill the nation's developing need for hardware.
With the possibility of semiconductor fabs turning into a reality in India, there is expanding significance for this course over the whole semiconductor manufacturing supply chain network.
_______________________________________
Certification Course
India's only and main certification course in "Semiconductor Technology and Manufacturing" is available at Indian Institute of Technology Bombay (IIT Bombay) and Applied Materials, Inc. It's a seven-day specialisation course for working experts in the semiconductor industry, research scientists, technical staff and academicians.
Cities