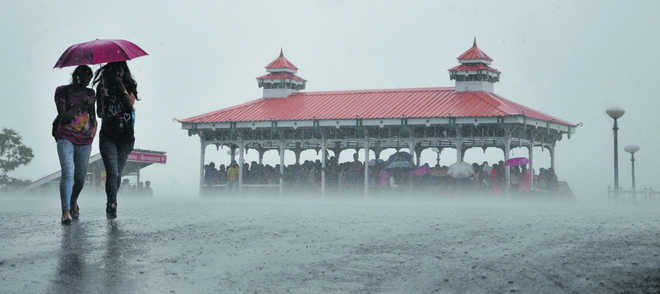 singhking99@yahoo.com
Who said rains mean stalling travel plans? This is the best time for long drives, provided you are on the right route. Savour bhajias and pakoras with piping hot ginger tea on the go, huddle under umbrellas and raincoats and enjoy a splash or two. A lowdown on places that must be visited strictly as it pours, reports Khursheed Dinshaw.
Panaji, Goa
Getting drenched in the Goan monsoon while riding a rented bike as you criss-cross through coconut, mango and cashew trees gives an adreline high. At the Our Lady of The Immaculate Conception Church, count how many movies have been shot against its backdrop or explore the old latin quarter of Fontainhas. Pay homage at Mahalaxmi Temple, sit at Dona Paula looking at its docked boats or head to Miramar beach as the rain potters away. Let Goan fish curry, pork vindaloo, chicken xacuti or pork sorpotel satiate your hunger pangs. Step into any of the bakeries for a slice of just baked coconut cake and get a whiff of a tray of coconut biscuits fresh out of the oven. Go Goa in monsoon to know Goa.
Panchgani, Maharashtra
To relive the charm of a bygone era, visit Panchgani for fleeting views of the valley and the Krishna River amidst low-hung clouds. Harrisons Folly, Sydney Point and Parsi Point are foggy but that is exactly when they give you the true feel of the rains. Walk on Table Land, the second highest plateau in Asia and see if you can spot Pandav Feet, One Tree Point and Shooting Point where many Bollywood movies have been shot. Munch on roasted black chana in flavours varying from the traditional salted to the more innovative lemon, masala, pudina, garlic, chaat, tomato, chole masala and jeera flavours. Or bite into a corn pattice and feast on bhutta, the monsoon staple of roasted corn on cob.
Siliguri, West Bengal
Most people consider Siliguri in North Bengal as the gateway to Darjeeling. But this city has its own charm in the rains. Visit Hong Kong market, not for shopping, but for momos or polish off a yummy plate of chowmein before you get caught in a downpour. Don't let the rains stop you from driving to the Coronation Bridge or Sevoke Bridge that is built over the green waters of Teesta river.
While Iskcon Siliguri is Northeast's biggest temple, Salugara Monastery makes for reflective meditation. Add a picturesque drive to Dooars that is known for its wildlife sanctuaries. You would not want to leave this city without tasting its lip-smacking sandesh or moist and syrupy rasgullas made with sugar and jaggery. Don't resist patishapta that resembles a pancake with a filling of either khoya or coconut and jaggery or sugar with cardamom.
Munnar, Kerala
The lush tea gardens, cascading waterfalls and the elusive Nilgiri Tahr turn Munnar into a paradise during the rains. Don't just enjoy a hot cup of tea here, learn the finer nuances of tea making at the tea museum. Or head to a tea estate and see if you can pluck the right tea leaf before the manufacturing process starts. Fancy a photo? You can choose from Photo Point, Echo Point (where you can experience your voice echo), Kundala Dam or Mattupetty Dam where you also get to sip strong ginger coffee. Alternatively, you could head to Shooting Point, one of the favourite locations of Malayalam and Kannada movies.
The gushing Attukad waterfall amidst dense greenery completes your picture perfect monsoon postcard. And don't leave Munnar without experiencing an ayurvedic therapy. Rainy season is the best time for an oil massage like Abhyanga or pouring medicated oil on the forehead during shirodhara.
Jamnagar, Gujarat
Jamnagar comes to life in the rains. The raindrops make their own music at the Bala Hanuman Temple that has made it to the Guinness Book of Records for its Ram Dhun, which is being continuously chanted since August 1, 1964. Walk in the rain along the Lakhota or Ranmal lakes. Drive around the city taking in the sights of the curved colonial architecture of Willingdon Crescent, the intricate Pratap Vilas Palace, the historic Khambhalia Gate that was built in the mid-18th century before heading to the Rozi Port and its inviting waters. Monsoons are an ideal time for relishing the deep-fried ghughra snack, a twist to the samosa and dal pakwan.
Keep it water wows
While the monsoons are fun, this is also when our immune system is not at its best. Tips to be safe and sound
Ensure that your surroundings are clean. It is tempting to gorge into street food, but if not prepared hygienically, it can also cause stomach infection.
Stagnant water around you can be a breeding ground for illnesses. Clean your tanks regularly.
Dry yourself immediately once you reach office or home. Keep an extra pair of clothes and footwear in your office drawer. In case you get drenched, you have a dry set of clothes to change into.
High humidity level often becomes the excuse to skip workouts. But if you want to indulge in those delicious, deep-fried snacks, you must compensate by working out more. If the downpour doesn't let you hit the gym, burn some calories at home. All you need is a yoga mat and resolve.
Drink boiled water and stay hydrated. Add garlic and turmeric to your food to boost immunity. Instead of eating the usual raw salads, which may contain active bacteria, consume steamed or cooked veggies.