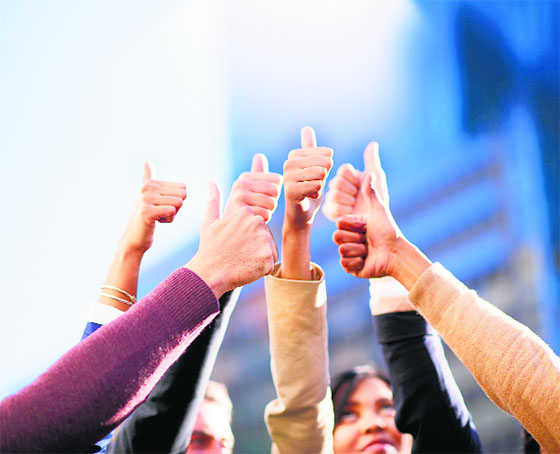 vermaajay1968@gmail.com
Asif Upadhye
Visualize this — An office steeped in creativity. Colour splashes across walls, motivational quotes adorning the walls, WiFi connection at a lightning speed, snackable items in the pantry, bean bags lying around for those who hate spinning in their chairs; you get the picture. You walk into an office where there is giggling, laughter, healthy banter, and even sharing of lunch boxes every afternoon. Each individual in the team walks in and leaves on time. Everyone seems to be happy. But the RoI on the business hasn't been that great in the last quarter. The numbers are low, targets unmet, and business growth progressing, but at a slower pace.
What could have possibly gone wrong? Shouldn't happy employees be producing higher results? Therein lies the flaw. Happy employees need not necessarily be engaged. Wait! what's the difference? The former helps maintain stability and are good for attrition rates. The latter see you through during crisis management.
Engaged employees are not just thinkers, but doers. They believe in taking initiatives that will help the business prosper. Happily engaged employees will 'voluntarily walk the extra mile' to make things happen and stand by the organisation, during challenging times.
It isn't a mammoth task after all. While the decision-making abilities lie with the top leadership, the onus of success lies with each one to create a happy as well as healthy work environment.
Yes, teams may comprise people with polarising behaviours and work styles. But it is this very set of diversified people coming together to work towards a common goal, that should help the organisation prosper. For HR it is imperative to ensure that the employees are just not happy but happily engaged too. Here's how this can be realised:
Make brainstorming fun and work a passion
Ever considered hosting 'Movie Mondays' once a month? Why not! If your employees are hard-working, they definitely deserve a break. A get-together during work hours, keeping work at bay for a while with official instructions, works like a charm. Besides, team bonding is an extremely critical aspect. Peers should remember each other's birthdays, as well as work anniversaries without a notification from Google or LinkedIn. The same camaraderie will be instilled in work relations when folks will neither hesitate in giving honest feedback, nor in accepting it graciously.
A few harmless office pranks always work best as ice-breakers among new joinees, putting them immediately in sync with the 'fun-loving but serious business' work atmosphere. When collaborative engagement becomes the key to work-life integration and everybody has each other's back; productivity will become a natural byproduct.
Does your culture resonate your work ethics?
One-time engagement is easy. Retaining that engagement while upholding the happiness levels is the real task. Remember what Steve Jobs said — "The only way to do great work is to love what you do!"
Culture plays a vital role in shaping people's behaviour. How? It helps re-instate positive behaviour and eliminate scope for negativity. A work culture that thrives with perks such as quarterly bonuses, mid-year appraisals or fun contests, help employees stay motivated to give their best every day.
Imagine how you'd feel if you received a simple pat on the back from your boss in front of the entire team for a great pitch presentation. Especially, when you are having a bad day. Recognition definitely goes a long way because it's the smaller thing that count in the long run.
Consistent conversations
Draw out an internal communication strategy that disseminates your company's values. Add colour to it, make it quirky. Make learning a fun process! Speak about the future scope of the company at townhalls, host regular webinars discussing the year's set target and how to execute the discussed plans.
Encourage teams to come up with out-of-the box ideas to drive results. Give them the authority to be the future change makers. Challenge them to set benchmarks. Reality check need not always be scary. They can also be enlightening to validate that your initiatives are on the right path of leading to a happily engaged workforce. Because, your people matter more than business.
— The writer is Director & Chief Fun Officer of Never Grow Up
---
Wondering what's missing?
Somewhere in the month of March, I encountered this really well-written piece on LinkedIn that explained how disengagement at work is not a motivational, but in fact a biological problem! That made me think! More than often a person's daily hard work and efforts are overlooked, leading them to feel undervalued. The fundamental aspect of every business remains the same — Communication. Not just at the managerial levels, but also at the grassroot level; with multiple permutations and combinations. Did you know that communicating with your peers and employees on a weekly basis is said to boost motivation levels? Where there is pride, happiness follows. Implement a system of mentoring and witness how all the disengagement gets transformed into positive results.
Empathise
Organisations heavily invest in training and skill development of their workforce to ensure a consistent professional growth. What is overlooked often is the external factors that could hold them back from being happy or engaged. In this super agile corporate race to make it big in life, we have forgotten to 'value ourselves'. Spending time with family, friends, and loved ones has taken a back seat while deadlines and deliverables occupy top priority. It's time leaders and managers help employees break away from the shackles of 'presenteeism' and encourage them to take leaves and comp-offs when they are sick or have worked over the weekends. Valuing the physical well being of your driving force is as important as their emotional happiness. Empathise. Show them that you care.
All readers are invited to post comments responsibly. Any messages with foul language or inciting hatred will be deleted. Comments with all capital letters will also be deleted. Readers are encouraged to flag the comments they feel are inappropriate. The views expressed in the Comments section are of the individuals writing the post. The Tribune does not endorse or support the views in these posts in any manner.