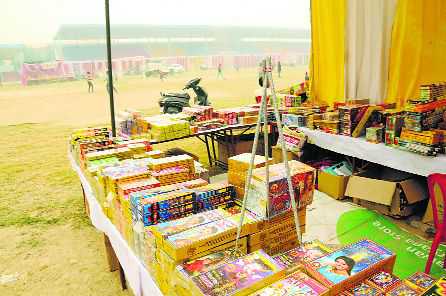 Tribune News Service
Bathinda, October 22
The district administration received 384 applications for selling firecrackers and a draw of lots for 34 stalls was taken out at the meeting hall of the Deputy Commissioner's office here on Tuesday.
To avoid any untoward incident during Diwali week, the district administration has designated three places in the city for selling firecrackers. These places are the Multipurpose Sports Stadium, Govt Rajindra College ground and a vacant plot opposite DD Mittal Towers in the city.
Sources said following the directions of the Punjab and Haryana High Court, the Administration had decided to issue the same number of licence for the sale of crackers as were issued last year.
Divulging details, ADC Sukhpreet Singh Sidhu said 34 firecracker stalls would be installed at three designated sites. Besides, one stall each would be installed at the sub-division level. The stall allottees would follow the directions of the Punjab and Haryana High Court.
Officials said no one would be allowed to sell crackers without a valid licence or at non-designated places. If anybody was found doing so, the violator would not be spared, added the officials.
It is pertinent to mention that taking suo motu cognisance of the deteriorating air quality in the region and seeking information on the licences granted to traders across Chandigarh, Punjab and Haryana, the High Court had restricted the bursting of firecrackers on Diwali to three hours — from 6.30 pm to 9.30 pm — two years ago.
Acting on it, this year the district administration has allowed only three hours for bursting firecrackers on the Diwali night.
Even the High Court has banned the manufacturing, sale and use of crackers that generated high-decibel sound with immediate effect.
The manufacturing, sale or use of crackers, which generate noise levels exceeding 125 dB (A1) or 145 dB (C) up to the distance of 4 metres from the point of bursting, were banned.
Even the district administration has failed to check the illegal sale of firecrackers, which is going on unabated in various parts of the district. One can easily see stocks of firecrackers in shops.
The illegal sale of crackers has begun in the city without the permission of the district administration. Despite the orders, the police have failed to check the illegal sale of crackers. While the administration has turned a blind eye towards these sellers, small-time traders continue to risk the lives of residents, including children, for some profit. They sell firecrackers from their houses and small shops in serpentine lanes of the city.