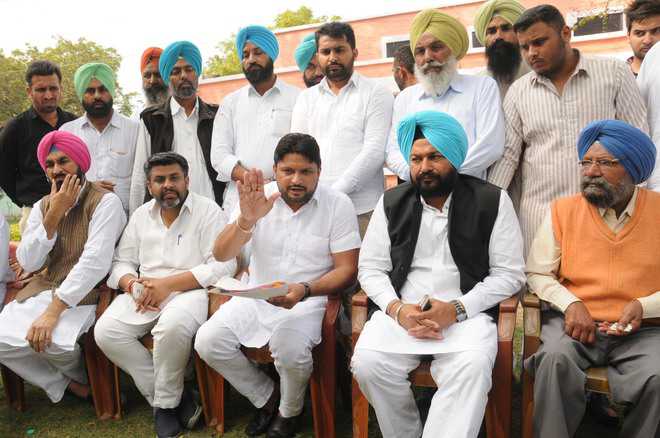 Nikhila Pant Dhawan
Tribune News Service
Bathinda, March 3
Singer turned-AAP leader-turned-Independent-turned-Congress leader Balkar Sidhu today claimed that the Aam Aadmi Party (AAP) was being funded by Khalistan supporters living abroad.
He said this while addressing a press conference in the city.
Also present with the singer, who joined the Congress last month, were Gurpreet Singh Kangar, Ajaib Singh Bhatti, Makkhan Singh, Gura Singh Tungwali and other party workers.
Levelling allegations against the party, Sidhu said: "The party is receiving funds from Khalistan supporters living abroad. It is no surprise that party convener Arvind Kejriwal and others are trying to create communal tension and woo hardliners in the state with their speeches and by getting photographs of Jarnail Singh Bhindranwale printed on party pamphlets."
He also added that his short stint with AAP was a bitter experience and he was left with no option but to leave the party and contest the Talwandi Sabo byelections in 2014 as an Independent.
Elaborating on his experience with AAP, he said he had joined the party because he was close to AAP MP Bhagwant Mann. Before joining the party, he was under the impression that it was full of leaders and workers with a clean image but he was shocked to find out that the image of the party was just a façade for luring voters.
He also accused the party of conspiring against him and recalling the party Ticket given to him to contest the Talwandi Sabo byelections and giving the Ticket to Baljinder Kaur.
He said he had prepared a file of revealing documents against Baljinder and had sent it to Arvind Kejriwal, Sanjay Singh, Bhagwant Mann and Sucha Singh Chhotepur.
He said Baljinder was adopted by one of her relatives but this fact was kept under wraps during the elections.
Taking a dig at Deputy Chief Minister Sukhbir Singh Badal, other Congress leaders said the Deputy CM was habitual of making tall claims of making the Bathinda airport functional, constructing a world-class cricket stadium and setting up a five-star hotel in the city, and then failing to deliver.
Claiming that PPCC chief Capt Amarinder Singh will become the Chief Minister in 2017, the Congress leaders said voters were fed up with the increasing rate of crime against women, deteriorating law and order situation in the state and Badal family' monopoly over several trades in the state.