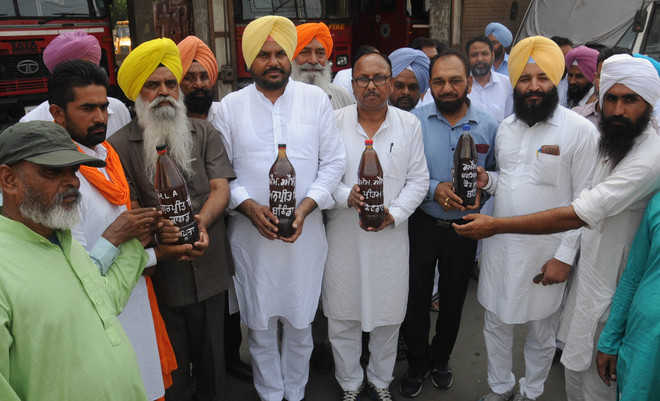 Sumeer Singh
Tribune News Service
Bathinda, June 10
Aam Aadmi Party leaders from the Malwa zone, who are on a state-wide campaign against environmental pollution, carrying bottles filled with polluted water reached Bathinda on Sunday.
AAP members gathered near Fire Brigade Chowk and raised slogans against the state government for not ensuring any concrete action to check pollution in the state.
Alleging inaction on the part of state government to save water bodies from pollution, AAP had initiated the campaign in Ludhiana on May 31, 2018.
They collected water samples from 'Budha Nullah' where thousands of industrial units in Ludhiana let loose untreated (containing heavy metals, chemical and other toxic content) water and gave these to MLAs and MPs of the state.
Talking to Bathinda Tribune, Amritpal Aggarwal, Malwa Zone-1, vice president, said, "We have covered more than 40 per cent of the area in the state. On Sunday, we visited the native village of former Chief Minister Parkash Singh Badal and presented him samples of polluted water. We will also present these samples to Union Minister Harsimrat Kaur Badal, Finance Minister Manpreet Singh Badal and Power Minister Gurpreet Singh Kangar on Monday."
Lashing out at the state government, Aggarwal said, "It is the vote bank politics and interests of big industrial players in the state that is restricting the government from taking strict action against them while water pollution is assuming alarming proportions with each passing day. The groundwater in a majority of the areas in the Malwa region is already polluted but surface water pollution has made the matter worse now."
"The solution to the current fiasco lies with the Punjab Pollution Control Board (PPCB). The board needs to deal with violators with an iron fist before the situation does an irreparable damage to the health of the people of the state. Cancer has already devoured lives of many people due to presence of toxic matter in groundwater in the region. It's time that the government takes corrective measures to minimise the damage," he added.
Top News
International body objects to 'undue influence' from 3rd par...
Russia has repeatedly threatened to fine sites - including G...