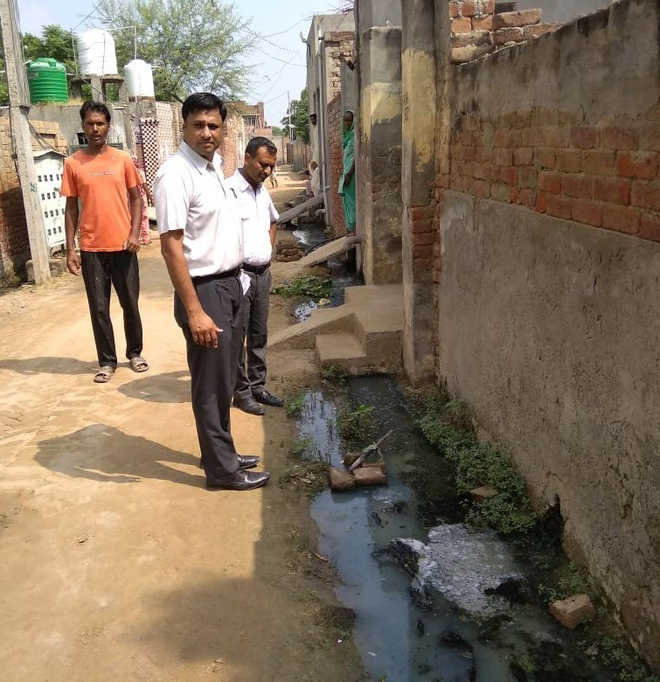 Tribune News Service
Bathinda, September 15
After more than 100 jaundice cases surfaced in Harraipur village, the disease has gripped residents of Rama village.
Teams of the Health Department collected blood samples and have started taking corrective measures to avoid further spread of the disease. Department officials said from preliminary investigations, it had come to light that chlorination of potable water (in waterworks at the village) had not been done for a long time.
District Surveillance Officer Dr Umesh Gupta said: "After the initial investigation, it was found that potable water in the waterworks has not been chlorinated for a long time. We also have to check if water was also getting mixed with sewage as was the case in Harraipur village. We have collected 13 blood samples from Rama village for now and surveyed around 123 houses out of total 505 in the village."
"Out of 408 suspected cases of jaundice, 105 have been tested positive in Harraipur village so far and the situation has started normalising there. We are also trying to get in touch with Water and Supply Department officials to get more clarity on the matter. For technical assistance, we are in touch with senior Health officials at the Chandigarh head office," added Dr Gupta.
Before the supply of water for consumption, chlorination was done so that harmful germs were destroyed but it was found that no chlorination had been in the waterworks for a long time in the village, said Dr Gupta.
Meanwhile, as the cases started coming up, village residents had gathered and launched an agitation near the waterworks of the village two days ago. Around two months ago, villagers had brought the matter about not receiving clean water. Residents rued that no concrete steps were taken by the authorities concerned to fix the problem, as a result of which they had to bear with the disease.
The Civil Surgeon, Dr Amrik Singh Sandu, said: "Health Department teams have collected blood samples from Rama village, after being informed of the situation there. These teams are also conducting surveys in the village. The actual picture will be clear on Monday."
In a press release issued by the district administration, Deputy Commissioner B Srinivasan said special teams comprising higher officials of the Health Department and the Water and Sanitation Department had been formed and these teams would make sure that villagers get clean potable water and proper health services. Teams of doctors were taking stock of the situation in villages.