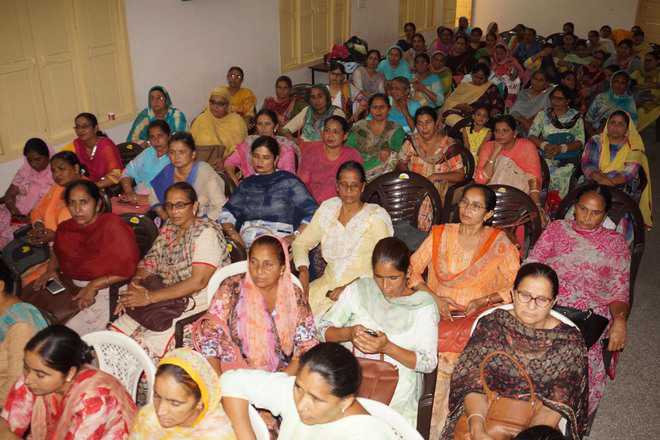 Tribune News Service
Bathinda, June 10
Members of the All-Punjab Anganwadi Employees' Union convened its state-level meeting at Teacher's Home here on Monday. The meeting was presided over by union's president Hargobind Kaur.
At the meeting, the union members decided to protest against the state government to get the demands of 54,000 anganwadi workers and helpers fulfilled.
They unanimously decided to start a series of hunger strike in protest outside Cabinet minister Aruna Chowdhary's house in Dinanagar on July 6. Besides, the members also decided to write letters by blood, which would be sent to the Chief Minister at the block level across the state.
While addressing the meeting, Hargobind Kaur said, "If workers and helpers are not paid the increased honorarium amount of Rs1,500 and Rs750, respectively, we will continue our protest. Eight months ago, the Centre had increased Rs1,500 for workers and Rs750 for helpers. But instead of giving the full payment, the Punjab Government had issued a notification to hike honorarium of Rs900 and Rs600, which is not acceptable to the union."
Top News
Resolution gets the backing of 13 Council members, while the...
The written answer to unstarred question number 980, uploade...
Punjab Police tell Punjab and Haryana High Court that the in...
Move comes day after Ali walked out of Lok Sabha proceedings...
The tax department has deployed about 40 large and small mac...