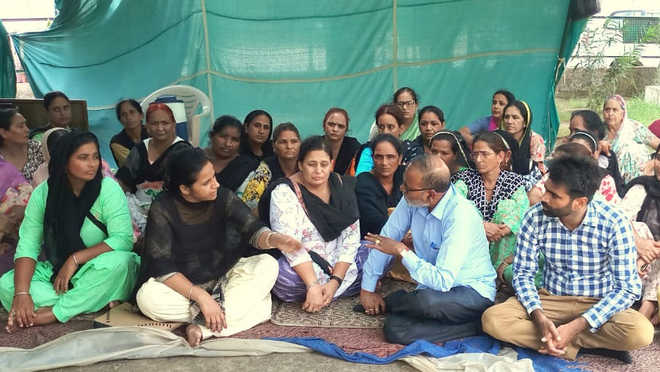 Tribune News Service
Bathinda, August 5
Members of the All Punjab Anganwari Employees' Union continued their hunger strike on day three to mark protest over their long-pending demands in front of the Mini-Secretariat complex on Sunday.
The anganwanri workers continued the hunger strike in continuation of protest they have been observing for past 189 days in the district. The protesters gathered outside mini secretariat complex and raised slogans against the state government for not fulfilling their demands.
They rued that the state government has given us assurance that a notification with regard to increase in pay structure would be issued on July 31 but nothing has been done by them till now.
Hargobind Kaur, president of the union, said, "The government has not issued notification to increase the salaries of anganwari workers till now as was announced. Five days have passed now but and we are still awaiting the notification."
Hargobind Kaur added, "As per the notification (if issued), the salary of an anganwadi worker will increase by Rs 1000 while that of helper would increase by Rs 500. We waited till August 2 and then decided to go ahead with the hunger strike. If government did not issue notification with regard to salary increase, we will intensify our struggle in the coming days."
Meanwhile, city Mayor Balwant Rai Nath met with the anganwari workers at the protest venue and ensured that all possible steps would be taken to ensure that they get their demands met.
Top News
Resolution gets the backing of 13 Council members, while the...
The written answer to unstarred question number 980, uploade...
Punjab Police tell Punjab and Haryana High Court that the in...
Move comes day after Ali walked out of Lok Sabha proceedings...
The tax department has deployed about 40 large and small mac...