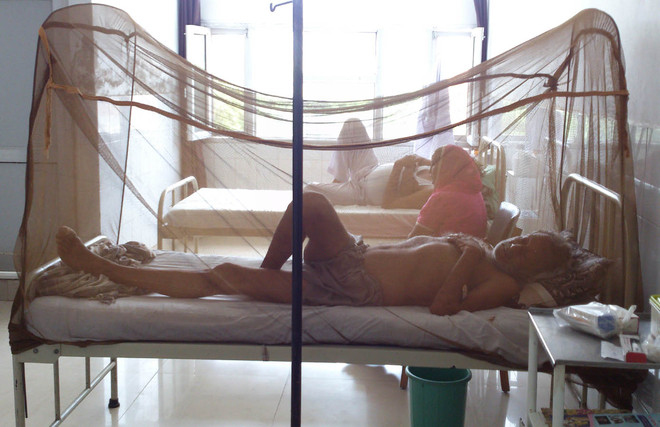 Tribune News Service
Bathinda, August 9
The district health authorities seem to have failed to control the dengue menace in Bathinda where the number of patients has crossed 60 whereas the Goniana town of Bathinda appear to have become a hub of dengue larva where as many as 47 patients have been tested positive for dengue. However, it had kept the Health Department on toes too.
With 10 more cases were confirmed positive after the MAC ELIZA test at the Civil Hospital, Bathinda, on Saturday, the number in the district crossed 60 patients. Teams of the Health Department are however conducting regular surveys in the district to find out the larva besides conducting the follow-ups of the patients.
In follow-ups, the teams of health officials moved to the house of the dengue patients to find out the dengue larva and sprayed over it along with disseminating the information about the awareness about the precautions and symptoms of dengue.
"In Goniana, about seven patients go the hospital almost daily with reports of fever whereas the number sometimes reaches 10. In only two months, more than 400 patients have been reported with fever whereas 47 were confirmed with dengue. We had conducted survey in almost all the houses and had appealed the residents to take precautions but despite our visits and spraying over the houses the dengue patients were reported again from some houses. Now, we are trying to trace the larva from the Ahatas and houses that are closed for a long time. We regularly appeal to public to not allow the stagnation of water anywhere in their home or shops," said, Dr Rajendra Bhushan, Dengue Nodal Officer, Goniana.
Two patients have been admitted to the Civil Hospital, Bathinda, whereas most of the affected patients of dengue had got treatment in the Goniana Community Health Centre. Besides Goniana, other towns, including Bhucho, Talwandi Sabo are also affected with number of patients reported positive of dengue from these towns.
Tarsem, son of a dengue affected patient from Kot Shamir, said, "It was only fever a few days ago but later the doctors recommended us for the MAC ELIZA test following which reports were conducted positive. My father is 70-year-old and is facing acute shortage of platelets. A team of health officials visited our house after my father was tested positive for dengue and found larva from our neighbour's house. A few more cases of dengue were also reported from Kot Shamir, including one more patient from our house."
Mulk Raj from Chandsar Basti of Bathinda city was also admitted to the Civil Hospital. Doctors claimed that he would recover soon.
The health officials, however, had claimed that teams of multipurpose health workers, each comprising two people, are conducting follow-ups of dengue patients to counter the dengue menace. On June 27, about 12 people from Goniana town were first tested positive for dengue in only less than one week.