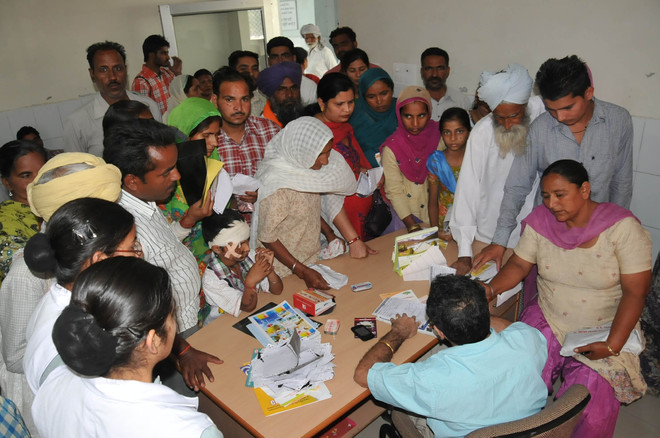 Sukhmeet Bhasin
Tribune News Service
Bathinda, May 6
The city hospitals have been witnessing a rise in the number of diarrhoea and dehydration cases for the past one week.
According to medical experts, exposure to excessive heat causes loss of fluids and a rise in the body temperature. This may occur at any age but is most common in babies and elderly.
The body loses heat due to the diversion of the blood to the skin and by sweat. Profuse sweating may lead to an excessive loss of fluids and salts, resulting in heat exhaustion. This condition is rarely serious, but if exposure to the heat continues, stroke may occur as the normal body cooling mechanism breaks down. Heat stroke is life-threatening.
"In the past ten days, cases of diarrhoea and dehydration have increased. Heat exhaustion can be treated easily. The affected person should rest in a cool place, ideally in an air-conditioned building and sip cool, salty drinks until he feels comfortable. If heat stroke is suspected, he should be admitted to the hospital as soon as possible," Dr Ripudamanjit Singh Kalra said.
Heat-related disorders can be prevented by avoiding strenuous exertion during the day time, spending as much time as possible in the shade, consuming large quantities of liquids and by avoiding alcoholic beverages.
"Even the risk of heart attack rises in the hot weather. One of the major causes of heart disorders is obesity which leads to diabetes, hypertension and high cholesterol, each of which boosts the risk of heart disease. Our BMI (Body Mass Index) should be below 23," Dr Kalra added.
Tips to remain cool in hot weather
1. Alter your pattern of outdoor exercise to take advantage of cooler times (early morning or late evening). If you can't change the time of your workout, scale it down by walking instead or running, or decreasing your level of exertion.
2. Wear loose-fitted clothes, preferably of a light colour.
3. Cotton clothes will keep you cooler than many synthetics.
4 Fans can help circulate air and make you feel cooler even in an air-conditioned house.
5. Try storing lotions or cosmetic toners in the refrigerator to use on hot, overtired feet.
6. Take frequent bath or shower with cool or tepid water.
7. Combat dehydration by drinking plenty of water along with sports drinks or other sources of electrolytes.
8. Avoid caffeine and alcohol as these will increse dehydration.
9. Instead of hot foods, try lighter summer fare including frequent small meals or snacks containing cold fruit or low-fat dairy products. As an added benefit, you won't have to cook next to a hot stove.
10. If the heat is intolerable, stay indoors when you can and avoid activities in direct sunlight. Pay special attention to the elderly, infants and anyone with a chronic illness, as they may dehydrate easily and be more susceptible to heat-related illnesses.
Don't forget that pets also need protection from dehydration and heat-related illnesses.