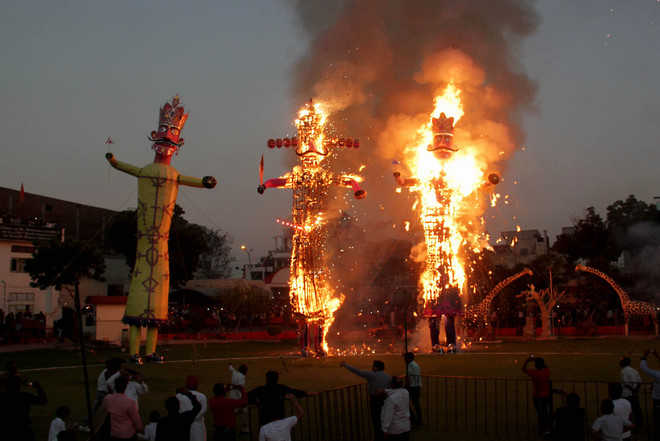 Sukhmeet Bhasin
Tribune News Service
Bathinda, October 8
Symbolising the victory of good over evil, effigies of Ravana, Kumbhakarna and Meghnad were set ablaze at several places in the city to celebrate Dasehra on Tuesday evening.
Scenes from the lives of Lord Rama and his fight with the Ravana were enacted before the effigies were set ablaze around sunset.
City residents witnessed an impressive show of firecrackers as well as the bursting of cracker-stuffed effigies of the Ravana, Kumbhakarna and Meghnad.
The festival was celebrated with traditional zeal and gaiety with the entire city soaked in the festive spirit. Events organised at the Thermal Colony ground, Model Town, Railway ground, MSD Senior Secondary Public School, SSD girls college and the NFL complex saw a huge crowd.
Fireworks lit up the sky after the sunset and the demons were reduced to ashes after Lord Rama, Lakshmana and Ravana enacted a fight.
Finance Minister Manpreet Badal attended two events at Thermal Colony and Guru Nanak College ground at Model Town.
Manpreet greeted residents on the occasion wishing peace, prosperity and happiness for all.
Deputy Commissioner B Srinivasan and SSP Dr Nanak Singh also attended the event, along with the Finance Minister, at Model Town.
The festival was celebrated with great zeal at SSD girls college where IGP, Bathinda Range, Arun Kumar Mittal was the chief guest. At MSD School ground, Punjab and Haryana High Court Justice HS Sidhu and former minister Chiranji Lal Garg were present.
Students presented cultural items and gave a special performance giving a message on plastic-free India. School president Rajan Garg and principal Suresh Setia honoured the students who performed well in studies and co-scholastic activities.
However, the authorities failed to stop youngsters from running towards the burning effigies to collect the partially-burnt wood as these are believed to bring good fortune if these kept at home.
Traffic blues
City roads witnessed traffic snarls on the occasion. Vehicles were parked along the roadsides, adding to the woes of commuters.
Traffic policemen had a tough time in regulating traffic and controlling the crowd.