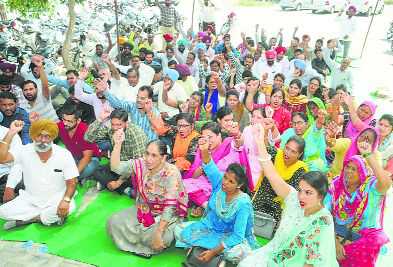 Tribune News Service
Bathinda, October 22
On a call given by the All India Bank Employees' Association (AIBEA) and the Bank Employees' Federation of India (BEFI), most of the public sector banks remained closed here on Tuesday. They were protesting against the merger of the 10 banks into four and poor recoveries of bad loans. The Bathinda unit of the Punjab Bank Employees' Federation staged a protest in front of the circle office of Punjab National Bank at Model Town here.
Criticising the merger of the banks, Pawan Jindal, vice-president of the Punjab Bank Employees' Federation and secretary of the Bathinda unit, said those banks, which would be merged were 154-year-old Allahabad Bank, 96-year-old Andhra Bank, 113-year-old Corporation Bank, 76-year-old Oriental Bank of Commerce, 94-year-old Syndicate Bank and 69-year-old United Bank of India. He questioned till now how these banks were functioning. All these banks were performing better and providing excellent customer service.
Besides, he said when the economy of the country was slowing down, the public sector banks earned a gross profit of Rs 1,50,000 crore for the year ended March 31, 2019, but because of total provisions towards bad loans, etc, amounting to Rs 2,16,000 crore, the banks suffered a net loss of Rs 66,000 crore.
Addressing a gathering, KK Singla said even big banks in the US collapsed during the slowdown period in the US. A big bank like Punjab National Bank could not detect Nirav Modi and Mehul Chouksi's frauds for many years. "Will it be more effective, if it becomes still bigger?" he questioned.
He said, "If banks become too big, they cannot monitor their business effectively as it will become difficult for them to monitor bad loans and frauds, which are already on the rise." He said the workload of bank employees was already too much, but the merger and closure of branches would increase their workload manifold.