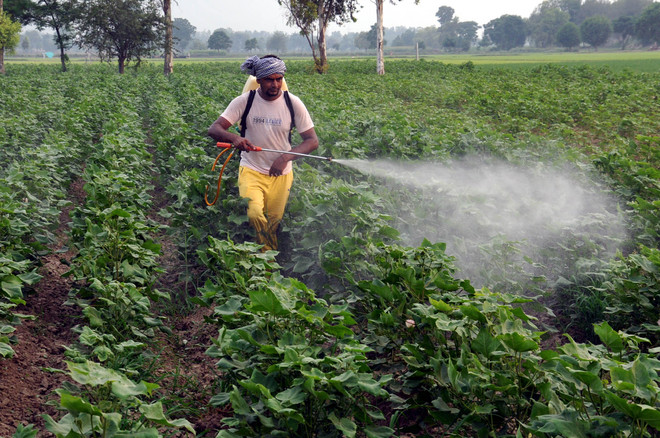 Tribune News Service
Mansa, July 26
To provide technical information to farmers about the Kharif crops, a training camp under the guidelines of the state Agriculture Department and Mansa chief agricultural officer Rajinder Singh Brar was held at Budhlada.
District Training Officer Guradita Singh SIdhu guided farmers about the crops and pesticide usage during the camp.
Officials asked the farmers to keep in their mind the expenses being incurred on crops while spraying pesticides, besides being sensitive to environment pollution.
The camp was held at Bhadara village of Budhlada sub-division in Mansa district yesterday in which almost 120 farmers participated.
The officials expressed worry about soil pollution with regular spray of pesticides by farmers and asked them to keep environment safe with judicious use of pesticides.
Providing technical information to farmers during the camp, training officer Guradita Singh advised the cotton farmers to spray pesticides and insecticides only when there was an utmost need, after assessing the white fly attack.
Farmers should also keep in mind the economic loss due to spraying of pesticides, he said.
Guradita Singh Sidhu said pesticide to control the white fly was available with the department with on 50 per cent subsidy and the farmers could get it from the block agriculture office after filling the forms.
Deputy project director Chamandeep Singh advised the farmers that just after flowers start blossoming on the cotton crop, the farmers should spray two per cent of potassium nitrate solution four times with a gap of one week.
Chamandeep Singh said if the farmers had sprayed the DAP during the Rabi crops then they should not spray DAP again during the Kharif crops.
Chamandeep Singh said in the paddy crop, if there were signs of impending shortage of zinc elements such as zinc deficiency with leaves going natty and brown and shrubs were left small, following which the quantity of produce was badly affected, then about 10 kg zinc sulphate heptahaidrate (21 % ) or 6.5 kg zinc sulphate monohydrate (33 %) should be mixed in equal quantity of soil and should be sprayed on the affected places.
Chief of the Agriculture Department, Mansa, Guraditta Singh distributed free pamphlets and leaf color charts to farmers so that they could spray the urea in their fields only according to their needs and also save their expenses.
Block technology manager of the Agriculture Department, Budhlada, Amandeep Singh, deputy inspector of Agriculture from Jagannath, village sarpanch and other panchayat members along with farmers were present during the camp.
Top News
The former military ruler had left Pakistan in March 2016 fo...
After his failed misadventure in Kargil, Musharraf deposed t...
Military shoots down the surveillance balloon in Atlantic Oc...
The incident took place on Friday when Kambli reached his fl...
Dearness allowance for employees and pensioners are worked o...