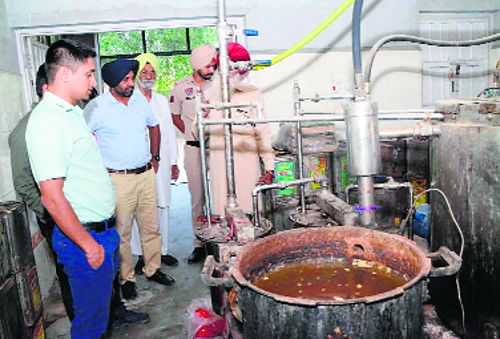 Tribune News Service
Tungwali (Bathinda), October 22
Additional Deputy Commissioner (Development) Paramvir Singh on Tuesday visited the honey cluster, which is being set up at a cost of around 3.5 crore. Appreciating the work of collecting honey and providing a platform to the youngsters to learn skills, Paramvir said the cluster would prove helpful for those who wish to start their own venture.
He said the honey cluster would be linked to various Self-Help Groups (SHGs), who would perform their services to run the cluster successfully. The district administration would provide support to run this cluster where people would not only learn about beekeeping but would also hone their skills as well.
The Additional Deputy Commissioner informed that the honey cluster, which is being run in collaboration with the district administration, would emerge as a unique project in Malwa. The production of honey too would increase substantially in Bathinda with the setting up of the cluster. It would be equipped with modern technology and advanced equipments and would prove helpful in making all beekeeping equipments and tools. The cluster would also manufacture wax products and members of SHGs may obtain training in this regard, he said.
Chairman of the society (SHGs) Gurcharan Singh Mann said an amount of Rs. 88 lakh had been received for the construction of the project, which is likely to get the machines in the coming days as its building was almost ready. It was being prepared according to the design received by the Punjab Government. In the honey cluster, honey would be collected, packed and sent for sale in the market. The packing machine would cost around Rs 25 lakh.
He said the machines would be used in this project with modern technology. Honey cluster would be very helpful for the unemployed youth in the future.
Top Stories