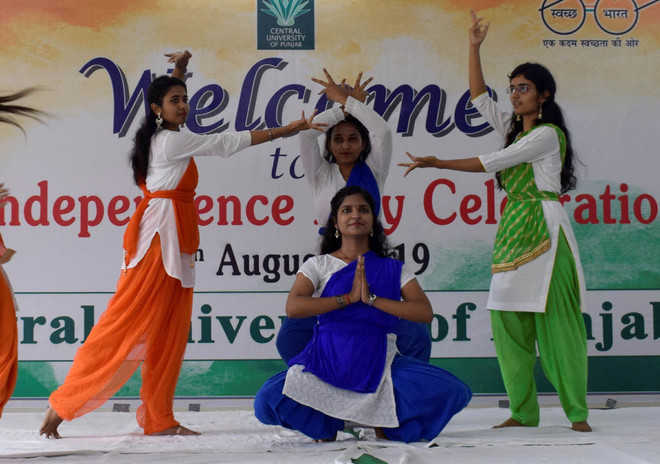 Tribune News Service
Bathinda, August 17
The Independence Day was celebrated with great fervour by students and faculty members of the Central University of Punjab on its main campus in Ghudha village on Thursday.
Vice-Chancellor (VC) professor RK Kohli unfurled the national flag. Later, the university flag was hoisted on its main campus. During his keynote address, the VC said our country had a wealth of natural resources, which should be used judiciously.
He highlighted varsity's best practices that were appreciated by the UGC. He motivated everyone to plant trees to preserve nature. After this, various events were organised, including singing of patriotic songs and recitation of poetry by students of the central university.
On this occasion, Professor VK Garg, Dean Students Welfare, motivated students to act as a responsible citizen and work for the development of the country.
Kanwal Pal Singh, Controller of Examinations and Registrar, gave a vote of thanks.
All university students, teaching and non-teaching staff members, along with their families, attended the function.
Independence Day celebrated at MRSPTU
The Maharaja Ranjit Singh Punjab Technical University (MRSPTU) celebrated the 73rd Independence Day with patriotic fervour on athletic ground of the varsity.
Saluting the nation and its freedom fighters, Vice Chancellor Dr Mohan Paul Singh Ishar, who was the chief guest on the occasion, unfurled the national flag.
Dr Ishar appealed to the gathering to adopt an attitude of humanity, brotherhood and national integrity. He said the process of nation building was still on. He appealed the youth to arise to challenges of the day and dedicate themselves to the building of a strong nation.
He called upon teachers to love their profession and be a role model for students. "A teacher is a beacon light that acts as a lighthouse to guide the stranded students in the sea of life," he said.
Dean (academic) of the varsity and campus director, Dr Savina Bansal said engineers played a very important role in every walk of life. "They are versatile minds who build bridges between sciences, technology and society. Engineers contribute to the nation's technological and industrial progress," she added.