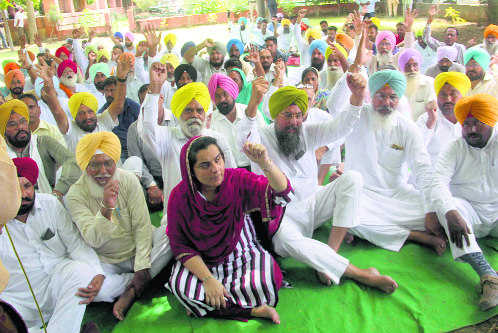 Sukhmeet Bhasin
Tribune News Service
Bathinda, August 19
Lawyers and AAP leaders staged separate protests here on Monday. They protested against the Bathinda police for registering a case against AAP district president Navdeep Singh Jeeda.
In view of protest call given by lawyers and AAP, a large number of police personnel were deployed outside the SSP office.
Lawyers under the banner of the District Bar Association raised slogans against the police and sought cancellation of the case registered against Jeeda. They also demanded a case against Head Constable Ranjit Singh. They said the Head Constable had misbehaved and attacked Jeeda on the Ajit road. The protesters said action should be initiated against the policeman.
District Bar Association president Kanwaljit Singh Kutti said he, along with senior advocate Harpal Singh Khara, on Monday appeared in the court of the Additional Sessions Judge to seek a stay on the arrest of Jeeda. He said the court had accepted it and stayed the arrest of Jeeda till further orders.
He said on Tuesday morning, a meeting of District Bar Association would be held in which the decision related to further course of action would be taken.
AAP leaders, including Talwandi Sabo MLA Prof Baljinder Kaur, Budhlada MLA Budh Ram and Kotkapura MLA Kultar Singh Sandhwa, protested in support of Jeeda at Ambedkar Park outside the SSP office.
The AAP leaders said the law and order situation in the state had gone from bad to worse and incidents of police highhandedness and bullying were a common phenomenon.
They said police personnel on duty were free to initiate legal action against Jeeda if he was found guilty of violation. The AAP leaders said they could not use brute force, subjecting him to physical torture.
MLAs Prof Baljinder Kaur and Budh Ram said it was a symbolic protest and if Navdeep Jeeda did not get justice and DDR filed against him was not withdrawn, the party would hold state-wide protests. Later, a delegation of the AAP leaders also submitted a memorandum to Deputy Commissioner B Srinivasan and IGP, Bathinda Range, MF Farooqui.
On Monday, another video went viral on social media in which Head Constable Ranjit Singh was allegedly seen taking other persons and attacking Navdeep Jeeda on the Ajit road after a spat. The IGP said, "It is sad that instead of suspending Navdeep Jeeda, the District Bar Association and AAP are staging protests in his favour. It is clearly seen in CCTV footage that Jeeda hit a police officer."