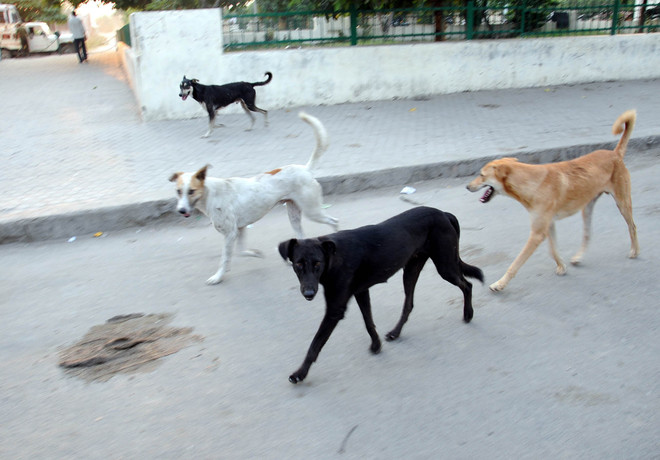 Sukhmeet Bhasin
Tribune News Service
Bathinda, October 6
City residents seem to be bearing the brunt of defunct project of dog sterilisation as on an average, two residents become the target of stray dog menace everyday in the city. Sources said around 730 residents have been bitten by stray dogs in the last one year.
Even as the dog menace is on the rise, the Municipal Corporation, Bathinda (MCB), has failed to launch the much-awaited sterilisation project to control the growing canine population. As per the Census conducted in 2009, there were 5,237 stray dogs within the municipal limits in the city.
Two days ago, stray dogs even ate up face and neck of a 45-year-old schoolteacher in a Sangrur village after he met with an accident. Despite this incident, the district administration is in deep slumber and is not taking this dog menace issue serious, it seems that administration is waiting for some major incident in their district.
Mayor Balwant Rai Nath said at present, the sterilisation of the dogs' project is lying defunct due to lack of funds, but soon they will restart it. He said as per norms canines would be caught, operated upon, fed and then released after due medical care and proper diet would be given to the dog. The cost of procedure per dog would cost around Rs 450, so in starting around 10-12 dogs were sterilised but after that the project has been lying in limbo due to shortage of funds.
Dr Gurmail Singh from Civil Hospital doctor said dog menace is quite high these days as they are getting on average two patients of dog bite everyday.
Even last week a Class XII student Vikrant Gupta, resident of Model Town, was going to his tuition on his Activa, when a dog chased and bit him.
It is pertinent to mention that earlier, even the MCB had sent a detailed project to the Animal Birth Control Board, Chennai, through the Deputy Commissioner-cum-president of the Society for Prevention of Cruelty to Animals (SPCA).
It was planned that canines would be caught, operated upon, fed and then released after due medical care. The cost of procedure per dog was fixed at Rs 510, of which the Animal Birth Control Board was to pay Rs 445 while the remaining amount was to be spent by the MCB.
Even the MCB had deposited its share of funds, but nothing was done in this direction by the Chennai-based agency and project failed to take off.
Top News
President hails India's achievements in overcoming Covid-19 ...
Jhunjhunwala, Big Bull of Dalal Street, passed away in Mumba...
If Jhunjhunwala would have had a regret, it was not seeing t...
'Jaishakar said that Europe is buying gas from Russia and we...
Magnitsky petition yet another attempt to bring Indian Gover...