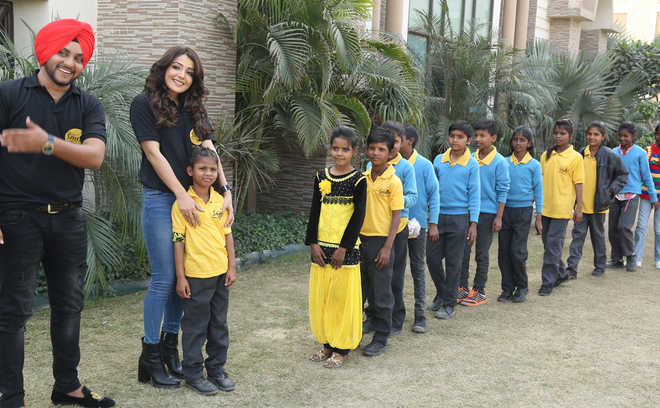 Tribune News Service
Bathinda, February 19
Engaged in educating slum children and bringing them to schools, NGO SMILE today launched its apps to collect funds.
The apps would be activated after around one-and-a-half month under which any individual or business entity can become a member by paying Rs 199, which would be deposited into the account of the NGO.
SMILE — Sport Me I Love Education — Society has made this effort with the help of city residents.
At present, the NGO claims of helping around 300 children get education at government and private schools.
Punjabi Singer Mehtab Virk and Pollywood actress Sonia Mann, along with other celebrities, today inaugurated the app at Sepal Hotel.
SMILE Society is focused on all-round development of the children, especially from poor sections of society.
"In Bathinda, at present, there are four places where we are running our centres — Gopal Nagar, Sanguana Basti, Paras Ram Nagar and North Estate. We have sent 27 children to St Joseph School's Punjabi medium section and around 150 students to government schools. There are around 50 teachers who work as volunteers and teach at these four centres. More than 200 teachers have joined us to teach these students free of cost," said Naveen Goyal, member of the NGO.
"We are dedicated to the welfare of underprivileged children in the field of education, healthcare and livelihood. We focus where there is acute poverty, lack of basic facilities and unemployment. We believe in betterment and bright future of those kids who are not able to take elementary education. To spread education is our mission and for this our members teach students by visiting slums. Besides, we also work for eradication of child labour," added Naveen.