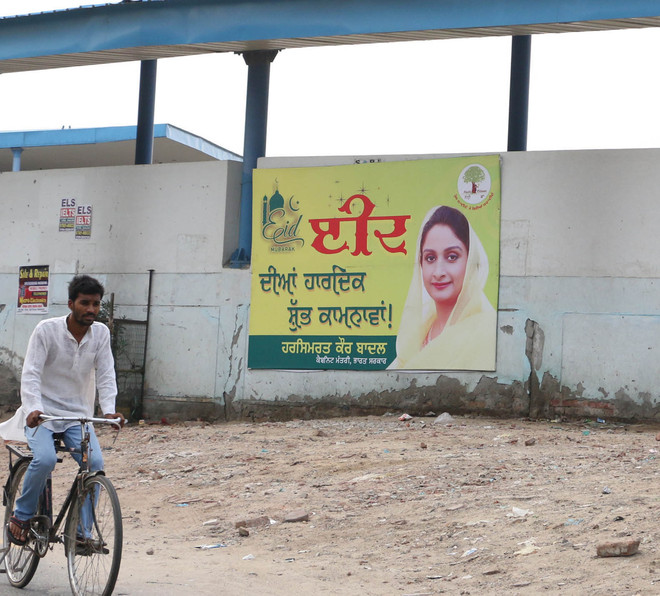 Sukhmeet Bhasin
Tribune News Service
Bathinda, July 19
The Bathinda Municipal Corporation (BMC) seems to be unable to deal with hoarding menace in the city. As illegal hoardings of the various politicians and unions thanking the Mayor Balwant Rai Nath and CPS Sarup Chand Singla for allowing the shopkeepers to install boards outside their shops have been installed at various points in the city.
An illegal hoarding of Union Cabinet Minister and local Member Parliament Harsimrat Kaur Badal congratulating residents on Eid has been installed on the building of the Multi-Purpose Sports Stadium. While an illegal hoarding of the flex printers association thanking Mayor Balwant Rai Nath and CPS Sarup Chand Singla have been spotted installed on the electricity poles near the Liberty Chowk on the GT Road.
Even the Punjab and Haryana High Court had issued directions against illegal hoardings; the High Court has directed to spare the GT roads, highways and key roads inside the towns from erecting these hoardings; a round of the city reveals how the high court orders are being defied. Huge hoardings and billboards have come up on roadsides at key points. However, in spite of the court orders, the situation remains the same.
Even Deputy Chief Minister Sukhbir Singh Badal had directed to all the district commissioners and district authorities to intensify their drive against illegal hoardings in the cities and had stated that any violations of the municipals by laws would not be tolerated, but his party leaders and workers are front runners in violation of these norms.
Though this is not a new trend, defacement of public and private property across the city seems to have become a regular practice with political leaders. The Bathinda Municipal Corporation and the district administration have turned a blind eye towards the menace.
The Municipal Corporation, on the other hand, has neither acted against these illegal hoardings nor bothered to implement the policy. Many of these hoardings are put up by politically connected people.
While talking to the TNS, on this issue over the phone, Mayor, MCB, Balwant Rai Nath, admitted that installing hoardings on the any public property is illegal. When asked about the hoardings installed by Harsimrat Kaur Badal, he claimed it might be the mistake of the person who installed it wrongly there. He stated that from next time he will make sure on such boards come on public properties in the city.
On boards installed by flex printers association to thank him, he stated that he had directed them not to install such hoardings but still they have done this. He stated that they have not done that, he will have it checked and all the illegal hoardings would be removed in the city.