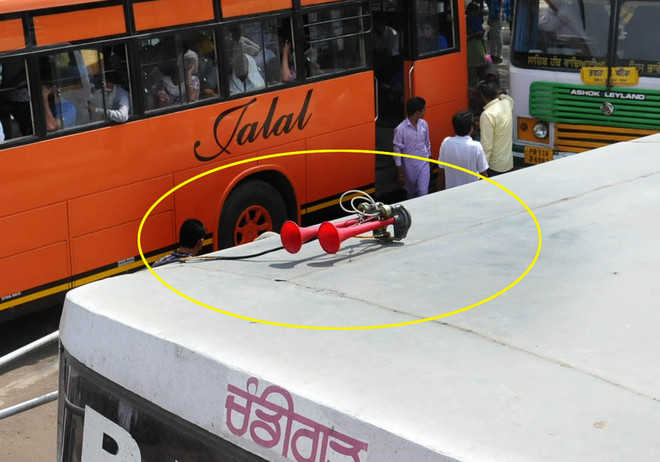 Nikhila Pant Dhawan
Tribune News Service
Bathinda, August 31
Tightening the noose around those using pressure horns, the Punjab Pollution Control Board has presented a proposal to completely ban the use of pressure horns, which create nuisance and add to noise pollution.
The proposal has been presented under the Prevention and Control of Pollution Act 1981. If it gets clearance, sale, purchase, installation and use of pressure horns will be illegal.
PPCB chairman Kahan Singh Pannu has sent letters to officials and Deputy Commissioners to make them aware of the planned move.
The PPCB has also sought suggestions and objections from the public. As part of the proposal, bullet motorcycles making too much noise will also be checked.
Openly flouting norms
Meanwhile, caring two hoots about the norms, government as well as private vehicles continue to use pressure horns and hooters to make their presence felt on city roads.
Despite the presence of traffic police personnel in the city, hundreds of vehicles flout traffic norms on the city roads.
The district transport office and the traffic police have failed to enforce ban orders on the use of pressure horns, especially in the vicinity of schools and hospitals.
A traffic police official, on condition of anonymity, said, "A majority of heavy vehicles such as trucks and buses using pressure horns are owned either by politicians or persons having political connections. When we stop them, they make contact with some senior officials and we have to obey the orders."
A visit to some of the most crowded intersections of the city such as Hanuman Chowk, Fauji Chowk and bus stand made it clear that at least 70 per cent of the commercial vehicles in the city use pressure horns.
Even the two-wheelers driven around the city by children, especially boys, are fitted with pressure horns.
City resident MM Behl opined that the traffic police remained a mute spectator when it came to issuing challans or impounding heavy vehicles if these were found flouting traffic norms.
"It is a common scene wherein traffic police personnel check documents of two-wheelers, but seldom would one find them checking papers of heavy vehicles unless specifically directed by the authorities," he said.