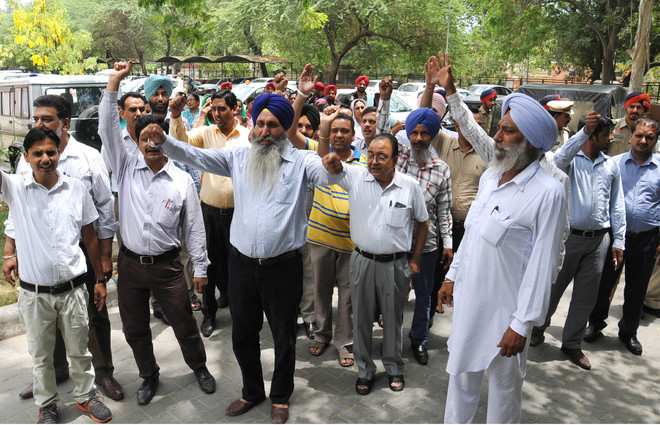 Tribune News Service
Bathinda, May 28
People who visited the offices of the Deputy Commissioner, Sub-Divisionaal Magistrate and the tehsildar were in for a surprise as they were faced with empty chairs as the employees of these office raised slogans against the state government. Members of the DC Office Employees Union began their two-day pen-down strike here today.
Raising slogans against the state government and the district administration for not being serious towards their demands, the employees marched around the complex as a mark of protest.
Elaborating on the demands of the union, its district president Megh Singh Sidhu said the employees want that the experience slab of five years as a requisite for promotion from the post of revenue superintendent to tehsildar be reduced to three years.
He added that the employees were also striving for an increase in the quota of posts of naib tehsildars which can be filled by promoting a head clerk. The employees want that apart from fresh recruitments for the post of naib tehsildar, the quota for the promotion of head clerks be raised from 2-3 per cent to 25 per cent.
He also added that the employees were infuriated over the government notification announcing that all fresh recruits in the department will be given only the basic pay and no allowance for the first two years of their service. He stated that this was a regressive step and would hurt the morale of the new recruits.
The union will continue its pen-down strike on Friday as well.