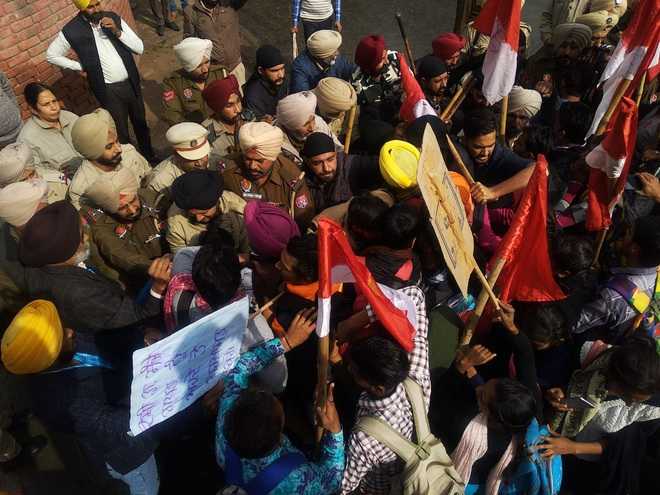 Tribune News Service
Faridkot, November 16
Protesting against an alleged incident of sexual harassment of a medical officer (MO) by a head of a department (HoD) at the Guru Gobind Singh Medical College and Hospital here, members of the Punjab Students' Union (PSU) and other social organisations staged a dharna in front of the Deputy Commissioner (DC) office here on Saturday.
Accusing the police and the district administration of shielding the suspect in the case, the protesters announced that they would continue the dharna till action was taken against the suspect.
Despite the DC had asked the Additional Deputy Commissioner (ADC) to conduct an inquiry into the allegations about two month ago, the probe made no headway, alleged the protesters.
While the protesters accused the district administration of lacking the spirit to take action against the suspect, ADC Paramjit Kaur, who is an inquiry officer in the case, said the probe was on and it would be completed in the coming days.
In a complaint to the police last month, the MO had alleged that since 2016 when she was selected for a postgraduate (PG) course here, she was being harassed by the HoD on one pretext or another.
The MO had said, "As I declined to succumb to various pressure tactics of the HoD during my three-year academic training period under his supervision, the latter continued to harass me even after I completed my PG course in June 2019. After I applied for a post of tutor in the department, I needed the recommendation of the HoD for my application. The HoD invited me at his residence and harassed me." Denying the allegations, the HoD had said, "I have nothing to do with the recruitment of the doctor as a tutor in my department."
Hod denies allegations
In a complaint to the police last month, the medical officer had alleged that since 2016 when she was selected for a postgraduate course, she was being harassed by the head of the department (HoD) on one pretext or another. The HoD had denied the allegations
Top Stories