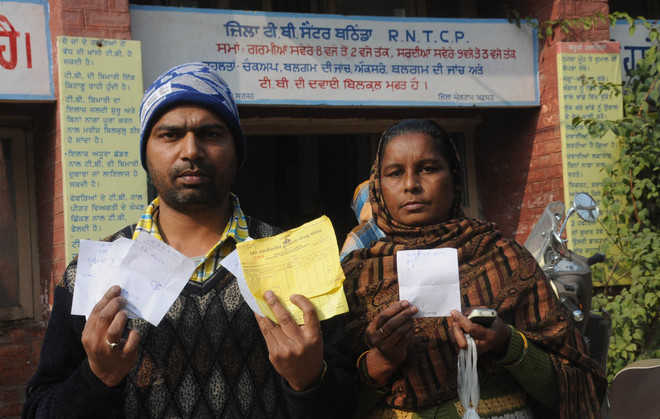 Sumeer Singh
Tribune News Service
Bathinda, January 3
Lal Chand (85) from Burj Hanuman Garh village, Fazilka, was admitted to the tuberculosis unit of the Civil Hospital on December 26, 2017, and had been undergoing treatment there since then.
The octogenarian's condition is deteriorating with each passing day. His treatment or sternly put his life now hinges on to his daughter Rani's (40) ability to pay for her father's medical expenses. But her biggest irony is that after paying for the medicines and medical tests at drug stores and private labs, now she is left with no penny.
While the Revised National Tuberculosis Control Programme (RNTCP) and DOTS (Directly Observed Treatment, Short) provides for free of cost TB diagnosis and treatment in all government-run hospitals, Rani was asked to get the sodium and potassium tests, injections and medicines from private chemist shops outside the hospital.
Rani said, "We have already spent around Rs 2,200 on his treatment while the government advertisements claim that the treatment for TB is completely free. The doctor at the TB unit has asked us to get the medical tests done from a private lab on daily basis so that the condition of my father can be monitored properly. We paid Rs 400 for the test once but after paying for the medicines and injections, we are left with no money to get the tests done daily. And the medical staff at the hospital has told us that they would continue treatment as long as we are providing them medicines and report of medical tests regularly."
"Rather than providing medicines to patients, the hospital staff are coercing helpless patients to purchase these on expensive rates from private chemist shops. It is high-handedness (dhakesahi) of the hospital staff that they even threaten us to discontinue the treatment if we could not afford to buy medicines or pay for the tests," rued a visibly helpless Rani.
When contacted, Rosy Aggarwal, MD chest and TB unit, said, "We do not have required infrastructure to conduct medical tests for sodium and potassium chloride. So, we recommended the patient to get it done from a private lab. The medicines prescribed by us are also for the same."
Civil Surgeon HN Singh said, "We are out of stock for sodium and potassium chloride medicines for now. We have requested the authorities concerned for the same and soon these medicines will be available at the hospital."
Top News
It was a follow-up of the seizure of 13 kg heroine
The speeding truck broadsides a Lucknow depot bus
The girl had visited Aaftab's flat twice in the month of Oct...