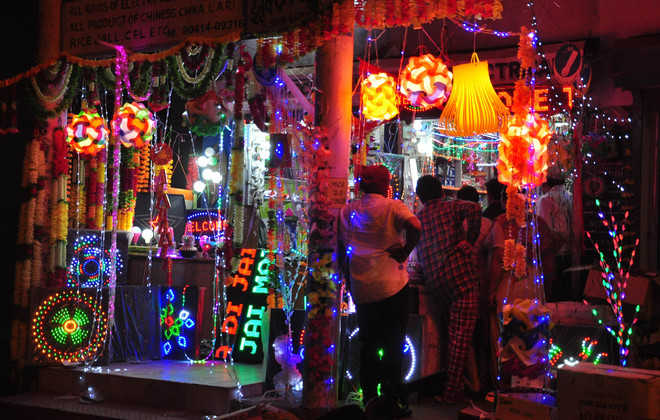 Sukhmeet Bhasin
Tribune News Service
Bathinda, October 21
With less than a week left for the Festival of Lights, Chinese goods have started flooding the city markets. Chinese lamps, decorative lights, posters and firecrackers are easily available at shops. Idols of gods and goddess, including those of Lord Ganesha and Lakshmi, are being sold with the tag "Made in China" on them.
A large variety of attractive yet guarantee-less LED string lights abound in city markets. The string lights in the form of coils, ropes, chandeliers, balls, garden lights, artificial diyas and even in the shape of frames made of small Chinese electric bulbs are easily available.
Besides, even Chinese lanterns, diyas, posters of goddesses and firecrackers are attracting customers and there is a huge demand for these products this season.
A city-based shopkeeper said, "Customers want Indian stuff. We also want to sell Indian products. But, we have no alternative. Indian companies cannot match the quality, quantity and pricing Chinese products give. Both buyers and sellers know this fact."
He said, "People prefer Chinese products because of their better finish, low cost and variety. Customers see both Indian and Chinese products, but go for Chinese."
Vijay Kumar, a trader, said at present, the scenario in India was such that Chinese products had a strong hold in the market. "Chinese products are of the use-and-throw type, besides being extremely cheap. A person buys Chinese lights, uses it for two months and then throws them away," he said.
Moreover, traders claim that if the government really wants businessmen to go for 'Make in India', then it should make effective policies that enable industrialists to make cheap goods that can compete with foreign goods.
A customer said clay diyas were good and traditional but if we were getting fancier lamps at the same rate, why not opt for it as it did not need to be refilled with oil.