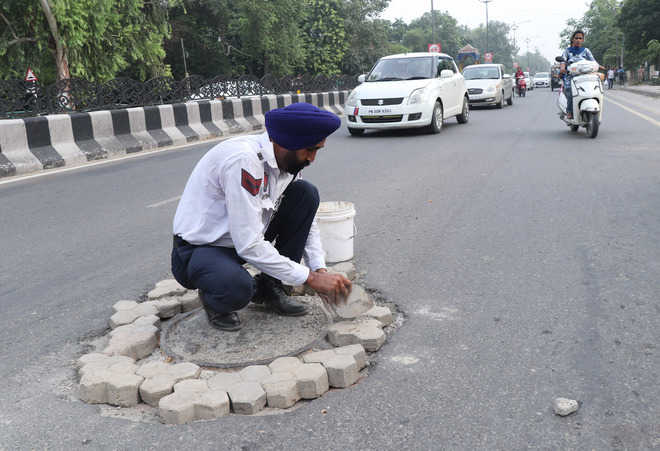 Sameer Singh
Tribune News Service
Bathinda, September 15
Setting an example of nobility and going beyond call of duty, a city-based traffic cop has been filling up potholes on roads in his bid to avoid mishaps.
Gurbaksh Singh, a traffic policeman, noticed that a two-wheeler lost balance after it was driven over a pothole on the road near Liberty Chowk around a week ago. Both rider and pillion rider had a narrow escape as vehicles behind them would have nearly crushed them.
The incident influenced Gurbaksh so much that he decided to fill up these potholes on his own. His sole motive behind it is to ensure the safety of commuters on city roads.
---
Also Read...
---
He, along with another traffic policeman Mohammad Singh, can be seen filling up potholes on city roads at one location or the other during the day. So far, he has filled up potholes on Bhagu Road, Liberty Chowk, Dana Mandi and on the highway leading to his village Buladhewala.
"It will be so unfortunate if somebody dies due to a pothole. If the authorities concerned have not been doing enough, as a responsible citizen, we have to shoulder the responsibility and start repair of these potholes. I am not sure whether it is a small or big contribution. All I want to serve society by just doing my bit," said Gurbaksh.
Notably, after incessant rain during the monsoon season, several roads in the city remained waterlogged for many days, leading to potholes.
He collects material such as bricks, interlinking tiles and soil from different parts of the city. He carries it in the trunk of his car and utilises it in filling up potholes.
He has even cleared glass shards from roads to avoid any untoward incident. He has identified new locations, including Amrik Singh Road and the stretch near Ghoda Chowk, to fill up potholes.
Gurbaksh Singh can often be spotted lending a helping hand to the elderly and the needy to cross the road near Liberty Chowk, where is deployed at present.