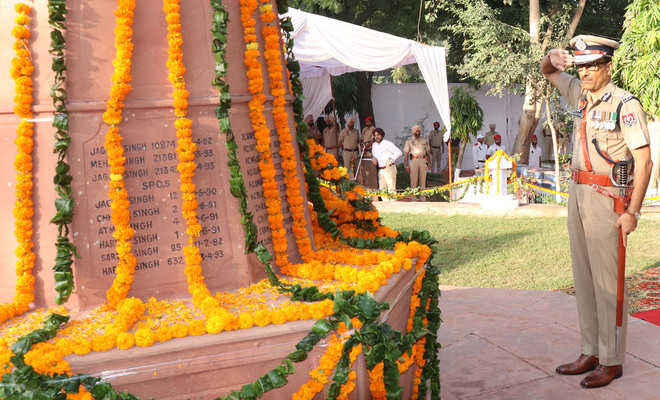 Tribune News Service
Bathinda, October 21
To pay homage to the police personnel who made supreme sacrifices in the line of duty, Police Commemoration Day was observed at the Police Lines ground here on Monday.
The Bathinda Range IGP, Arun Kumar Mittal, along with other officials, on Monday paid homage to the police personnel who laid down their lives while discharging their duties on Police Commemoration Day. Officials were joined by Deputy Commissioner B Srinivasan, District and Sessions Judge Kamaljit Lamba and SSP Dr Nanak Singh on the occasion. Even the families of 59 martyrs were honoured at the function.
Addressing the martyrs' families and the officials present on the occasion, IGP AK Mittal said this historic day made us remember the sacrifice of their lives made by valiant police and paramilitary forces officials across the country. Mittal said the martyrs sacrificed their lives for the security and integrity of the country.
Later, IGP AK Mittal, along with SSP Dr Nanak Singh, listened to the problems of martyrs' widows, children and kin. They told them that they all were members of their family and if they had any problem or grievance, then they could come to them anytime and put forward their issue. They also assured that their issues would be resolved on priority.
Talking to mediapersons, many families of martyrs put forward their grievances. They said the Police Department remembered the martyrs only for one day in a year while on other days members of their families kept running from pillar to post for jobs or other works, but nobody listened to them.