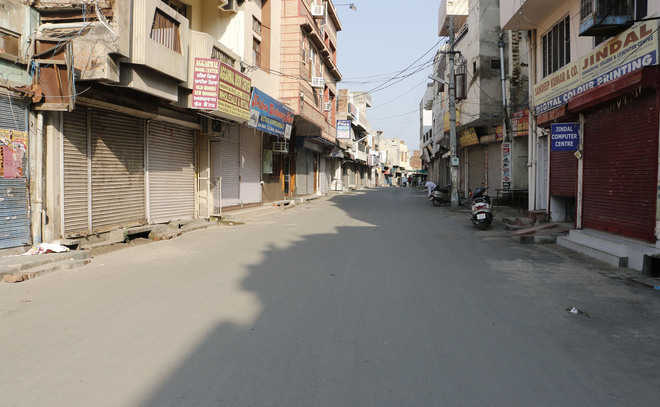 Nikhila Pant Dhawan
Tribune News Service
Bathinda, August 26
As a fallout of the verdict against Dera Sacha Sauda head Gurmeet Ram Raheem Singh, it is the hospitality industry which is facing huge losses. Yet to fully come out of the Supreme Court verdict banning the sale of liquor within 500 metres of highways, the hotel industry has again been pushed towards losses.
Satish Arora, president of the Punjab Hotels, Bars & Restaurants Union, said, "The hotels began suffering losses three days before the verdict was to be pronounced. The guests staying in hotels checked out anticipating tense situation in the city post the verdict in the case. Only those guests who are stranded due to suspension of bus and railway services had stayed back in the hotels and the occupancy rate has fallen down to only about 10 per cent."
Hotelier Tarun Gupta said this was the second major shock for the hospitality industry after the Supreme Court's decision to ban sale and consumption of liquor within 500 metres of highways.
"At that time, the sales and customer footfall had dropped tremendously. The industry had faced major losses due to that decision earlier this year. Now due to this verdict, parties and other functions have been cancelled as residents are not sure if peace will prevail," he said.
Another hotel owner Siddhant Gupta said the industries allied with the hotel industry was also suffering losses due to this tense situation in the state.
"The vendors providing daily supplies such as vegetables, fruits, milk and other products are also suffering as there is no business in the hotels. The situation has come to such a pass that the hotels are now finding it difficult to even serve the guests who have stayed back waiting for normalcy to prevail as the employees are also not coming to work in full strength," he said.
Arora said owing to the dera verdict, the hotel industry in the state was suffering losses to the tune of Rs 100 crore almost everyday.
"The state government is also suffering losses of about Rs 20 crore per day which it would have earned through taxes. For fear of vandalism by anti-social elements, the hotels may remain closed till at least Monday," he said.
Top News
On Joe Biden admn's request, smuggler was held in Czech Repu...
PMGKAY to continue for 5 more years from January next