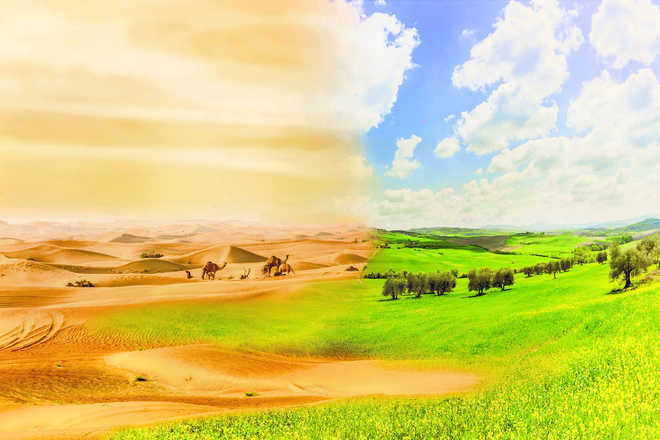 laxmi@tribune.com
Latika Sehajpal
India recently hosted the 14th Conference of Parties (COP) of the United Nations Convention to Combat Desertification (UNCCD). After 12 days of discussions with 6,000-odd global participants, the New Delhi Declaration was released. This declaration resulted in 35 resolutions legally binding on the 197 participating countries. Another outcome was the voluntary Land Degradation Neutrality (LDN) targets that 122 countries adopted, much to the delight of environmental crusaders. India set a voluntary LDN target of 26 million hectares (mha) by 2030. This declaration talks of tackling droughts and the interlinkage between land restoration, climate change and biodiversity. As a commitment under this declaration, the 'people first' approach will be used to combat land degradation, and the participation of civil society will be invited. In consonance with the UN spirit, gender-sensitive projects will also be undertaken when this declaration takes the shape of a policy.
The UNCCD is the only legally binding international agreement on land issues. As per this Convention, LDN is "a state whereby the amount and quality of land resources, necessary to support ecosystem functions and services and enhance food security, remain stable or increase within specified temporal and spatial scales and ecosystems." Land is an economic resource and a fixed one, which makes it scarce. This scarcity triggers fierce competition to use it beyond its recovery potential. We see it in rules which allow cultivable land to be used for housing projects. It should be done in moderation; buying these lands in the midst of nowhere and building a residential colony serves a lesser purpose than the one envisaged. Concrete structures are made out of degraded forests. Though compensatory afforestation and a degree of corporate social responsibility are expected of these economic projects, will they truly be able to compensate for the bio-potential of the land we are losing? The answer is no.
Pitched as a global initiative by the UNCCD and the United Nations Environment Programme (UNEP), LDN is part of the UN Sustainable Development Goals (SDG) 15.3. To achieve this goal, a lot of financial investment is needed. According to the Addis Ababa Action Agenda, public and philanthropic resources alone do not suffice for the finance investment. Private funds need to be capitalised as well. A global mechanism has been established under the aegis of the United Nations. An LDN Fund has become operative after its launch at the UNCCD's COP13 meeting in China. It is a collaboration of private capital, government contribution and humanitarian foundations. This fund counts European Investment Bank as its anchor investor, but much of Europe has not adopted voluntary LDN targets. However, this fund is also backed by the UN-sponsored Global Environment Facility Fund.
Land degradation is a challenge but also a pointer to the bigger menace of desertification. As per the UNCCD (1994), land degradation in drylands (arid/semi-arid and dry sub-humid zones) is defined as desertification. The UN Decade for Deserts (2010-20) and the Fight against Desertification, a global initiative, reveal that out of 197 countries which are party to the land degradation declarations, 169 have declared that they are affected by desertification. There are 1.5 billion people in these countries that are most affected. This has led to the loss of 75 billion tonnes of fertile soil and 12 mha of land to various scales of degradation. Especially affected are the drylands which, according to the Millennium Ecosystem Assessment (2005), comprise 41% of the total land surface of the Earth and host 44% of the world's cultivated systems. Corroborating this narrative is the Global Land Outlook Report which defines the inter-relationship of land degradation with desertification, drought, food security, migration and employment.
Watching Indian space
Indian space agency ISRO has developed a land degradation inventory using data from remote sensing satellites. According to this data, India is slow on land reclamation. Of its total geographic area, 96 mha is reeling under land degradation. This is 29% of the country's total geographic area as in 2011-13; this figure has risen by 1.87 mha when compared against the 2003-05 data set. The states bearing the brunt of land degradation are Rajasthan, Maharashtra, Gujarat, Karnataka, Telangana, Madhya Pradesh, Jharkhand, Odisha and Jammu and Kashmir. States like Jharkhand, Delhi, Goa and Gujarat show 50% of their areas under desertification and land degradation. In states like Uttar Pradesh, Punjab, Bihar and Haryana, it is below 10%.
The Ministry of Environment, Forests and Climate Change articulated the Indian narrative on the problem and possible solutions to land degradation at COP14. Environmental protection is implemented with half-measures across various sectors of Indian economy. As a nation always in the making, India sees infrastructure development projects prolong for years and years, without stringent rules against companies or authorities which defer decisions in these cases. This leads to a dust-filled troposphere, besides impacting vegetation. The long-term result is the disturbance of biodiversity along with the migration of livestock and humans. The analysis of the ISRO data set shows that India has reclaimed 1.95 mha, but 3.63 mha of productive land has been degraded.
The solution to desertification and land degradation is not simple because the issues themselves are complex. The degraded lands have to be restored first. Then, these lands should be used sustainably. This measure needs to be supported with activities that assure food and water security to the migrating and affecting population. And the most simple but effective measure of afforestation has to be implemented with sincerity. A slew of policy measures are needed for real estate, industry, mining and quarrying sectors. Social stability is required for people to be able to live at one place for a longer time and develop a connect with the cultivable land. Local, less water-intensive species need to be propagated. The use of chemicals in agriculture needs to be regulated. With water already a stressed commodity, air being polluted more and more everyday and land being degraded, the triangle of life is inching towards instability. We should wake up before it is too late. Or else, it will become impossible to undo the damage we are inflicting on our planet in the name of development.
At the receiving end
The top three districts bearing the brunt of desertification and land degradation are Jaisalmer (Rajasthan), Lahaul-Spiti (Himachal Pradesh) and Kargil (Ladakh). According to Bhuvan Portal of ISRO, Jaisalmer has majorly barren, salt-affected wasteland and scrubland that experience land degradation mainly due to wind erosion. Lahaul-Spiti (in pic) and Kargil have majorly unculturable, barren rocky terrain. Lahaul-Spiti witnesses land degradation due to glacial erosion; in Kargil's case, mass movement of soil is the main factor. Lahaul-Spiti shows increasing land degradation in terms of vegetation degradation in the scrublands and frost shattering in glacial areas when the ISRO data set of 2011-13 is compared with that of 2003-05. Jaisalmer shows 92% land degradation; Lahaul-Spiti accounts for 85% and Kargil 78% of desertification/land degradation. Jaisalmer recorded the highest decrease in land degradation of 5% in 2011-13 (compared to 2003-05), showing improvement in the land reclamation measures.
The author is Deputy CEO, Himachal Pradesh Rural Livelihood Mission. Views are personal.
Please email your feedback at infocus@tribunemail.com
All readers are invited to post comments responsibly. Any messages with foul language or inciting hatred will be deleted. Comments with all capital letters will also be deleted. Readers are encouraged to flag the comments they feel are inappropriate. The views expressed in the Comments section are of the individuals writing the post. The Tribune does not endorse or support the views in these posts in any manner.