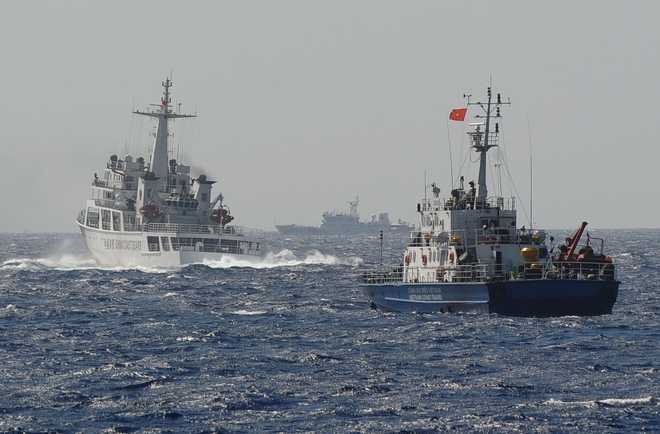 uttara@tribuneindia.com
KV Prasad
Tribune News Service
New Delhi, August 21
Raising tension in South China Sea, China has stationed two Coast Guard ships near the ONGC Videsh oil exploration block off the Vietnam coast, besides increasing military activities, including conducting sorties in South China Sea.
Diplomatic sources of Vietnam said here that personnel from these two ships were using loudspeakers asking halting of work on the 0.61 block, where ONGC Videsh works in a joint venture with Russian Rosneft and Vietnam companies.
India is associated with exploration work here for the past 17 years and in the past too Beijing protested commercial oil exploration activity.
Concerned over the presence of some 20 vessels, including eight coast guard ships, 10 fishing boats and two service ships in the area, sources said China returned to the area recently after staying put for 33 days from July 3.
Hanoi says the area where Beijing is moving around fall in Exclusive Economic Zone, a claim disputed by Beijing.
To prevent China from extending claim and force them to vacate from the region, Hanoi decided to increase diplomatic pressure amid indication that the issue could be taken to the United Nations Security Council (UNSC). "There is a suggestion that we follow the same China-Pakistan model at UNSC, if Pakistan can take bilateral issue to UNSC, South China Sea is still an international issue," the sources said.
Vietnam sources said while intention of China was to force Vietnam to draft Beijing as a partner in exploration, they were not certain whether the idea of moving coast guard ships close to the Indian block is linked to New Delhi's move in Jammu and Kashmir.
China gave a measured response to changes effected by Parliament abrogating clause granting special status to J&K and bifurcating it into two Union Territories, especially Ladakh. As a member of Permanent-5 at the UNSC, China took up the issue for a closed-door session on behalf of Pakistan.
Unlike the July-August presence, the sources said at present Chinese military aircraft, including bombers, fighter and mid-air refueller, are conducting sorties in the region. During July-August, China deployed 35 ships and went away after the ASEAN Foreign Ministers' meet on August 1. This is also the third major incident by China since 2011 when Beijing cut Vietnamese cables and in 2014 put up a drilling platform that was later removed.