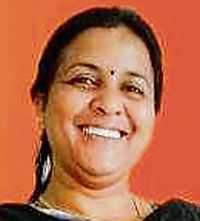 editorial@tribune.com
Lalit Mohan
Tribune News Service
Dharamsala, July 20
Infighting has started in the Kangra BJP before the crucial meeting of the party to ponder over the strategy for the coming byelection for the Dharamsala Assembly constituency.
The state president of the BJP Mahila Morcha Indu Goswami had resigned this week. Indu had unsuccessfully contested the last Assembly elections from Palampur on BJP ticket. She was given ticket despite opposition by the former CM and veteran BJP leader Shanta Kumar. However, the former BJP MLA from Palampur Parveen Sharma contested as independent contributing to her defeat.
Parveen Sharma was taken back into the party before the parliamentary poll. Sources here said Indu was not happy at his re-induction into the party. The sources here said Indu was a contender for party ticket for Dharamsala byelection. However, none in the party took her claims seriously. The BJP will hold a crucial meeting of the party at Dharamsala tomorrow that will be attended by state president Satpal Satti, organising secretary Pawan Rana and BJP MP from Kangra Kishan Kapoor.
Earlier, Chief Minister Jai Ram Thakur was also scheduled to attend the meeting but later cancelled it as he was to attend the swearing-in of the new Governor of Himachal Pradesh.
Sources here said BJP leaders would discuss the coming byelection for the Dharamsala constituency scheduled to be held in two months. The constituency fell vacant when Minister for Food and Civil Supplies Kishan Kapoor was elected as MP from Kangra. Though Kishan Kapoor was elected by 4.77 lakh votes, the byelection is not a cakewalk for the party.In the parliamentary poll, the Modi factor weighed over everything in the minds of voters and there was record polling for the BJP. However, in the byelection the local factors will be at play.
Supporters of Kishan Kapoor are in favour of his son Shashwat Kapoor contesting the byelection as he belongs to the Gaddi community that forms a sizable chunk of voters in the constituency. However, neither Kapoor, nor his son has staked claim. Many leaders have staked claim for party ticket.A section of party is in favour of fielding a Brahmin leader.
Indu unhappy by Parveen's entry into party
The state president of the BJP Mahila Morcha Indu Goswami had resigned this week
Indu had unsuccessfully contested the last Assembly elections from Palampur on BJP ticket
She was given ticket despite opposition by the former CM and veteran BJP leader Shanta Kumar
Former BJP MLA from Palampur Parveen Sharma contested as independent contributing to her defeat