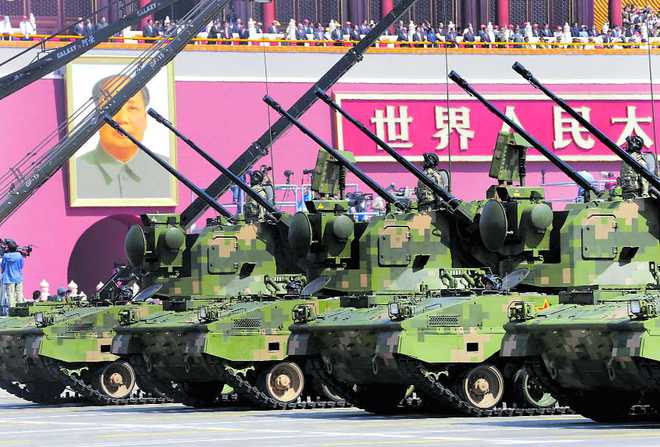 Lt Gen HS Panag (retd)
Let alone China, India cannot even win a war against Pakistan. The reason is while Pakistan has built military power, India focused on building military force. In this difference lies the capability to win wars. Military force involves the mere collection of 'war-withal', that is building up of troops and war-waging materiel; military power is about optimal utilisation of military force. All this comes under the rubric of defence policy (also called political directive) and higher defence management, which in India's case is either absent or anachronistic and in urgent need of transformation.
With these blunt words for the currently dominant emotional, nationalistic, jingoistic and rhetoric-riding political class and its followers, begins the prologue of the book Dragon On Our Doorstep by Pravin Sawhney and Ghazala Wahab. The authors cover a vast canvas that includes the incremental evolution of our 'functional', though anachronistic National Security Strategy; the internal and external threats faced by us, the state of our armed forces, detailed evaluation of our principal adversaries, China and Pakistan' and recommendations for a 'winning strategy'.
One may not agree with their analysis and recommendations in entirety, but they cannot be faulted on painstaking research and blunt evaluation. There is no shying away from unpalatable conclusions; no possibilities and probabilities; no political correctness; only professional examination of complex strategic and defence issues and out-of-the-box solutions usually glossed over by most analysts. In this respect alone, this book is exceptional and a must read by the opinion and policy-makers.
The authors contend that China is our most dangerous threat as it continues to change the LAC through military coercion and has no desire to settle the border dispute. China-Pakistan alliance cemented by the ambitious CPEC, the flagship of OBOR, poses a very serious threat to Northern Ladakh. Their active cooperation in the event of war is inevitable. The gap between India and China's comprehensive national power is so huge that there is no possibility to match it in the foreseeable future. The authors believe that it is not possible for India to fight a two-front war and suggest a 'settlement' of the Kashmir issue on the lines of the four-point formula worked out in 2007 in order to focus on China.
The winning strategy recommended by the authors makes a very interesting read and certainly opens up the debate on the subject. As a first step towards the development of military power, India needs to reform its higher defence structures and decision-making process to formulate a National Security Strategy. The armed forces must become part of policy making, because diplomacy without military muscle remains empty rhetoric.
Apart from providing the steel frame to our diplomatic parleys, this will also bring clarity to political objectives and military aims to be achieved by military power. Interaction between armed forces and the government needs to be formalised. To begin with, there should be a permanent Chairman of Chiefs of Staff Committee and as the system matures, a CDS must be created.
Among other recommendations made by the authors are: Development of tactical nuclear weapons with command and control at the strategic level. Greater reliance on cruise missiles than ballistic missiles. Major investments to be made for military technology development. Putting the heartland in order by dialogue and development, and reclaim the peace narrative internationally to focus on economic development. Resolve the Kashmir issue. This is an imperative and will have the support of China due to the CPEC, which runs only 18km from the Karakoram Pass.
The over-arching theme of the book is that India's strategic focus must be on China. Dragon On Our Doorstep flags a fresh strategic approach in dealing with our adversaries. Armed Forces' officers, particularly Army officers, would do well to read this book. Even for the general public it explains the complexity of our national security issues in an easy to understand manner.
Top News
Polling began at 8 am and will continue till 5:30 pm
Over 1.45 crore electors are eligible to exercise their fran...
Discuss Russia-Ukraine war, highlight emerging security chal...
Presidents of nearly 40 parties have been invited to the mee...
The seized drugs are the spurious versions of leading brands...