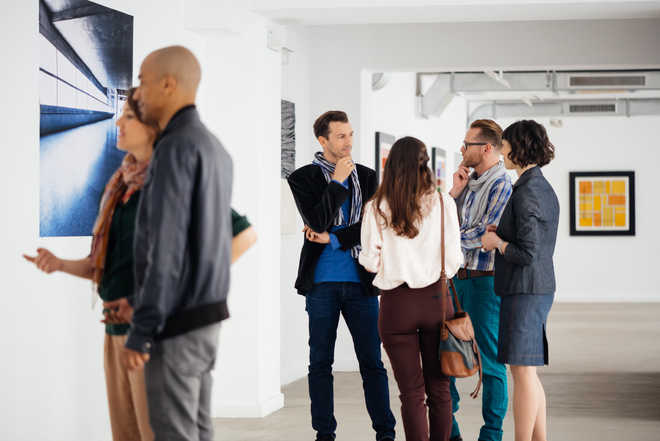 Gaurav Kanthwal
Kalayug, a novel by Anurag Tripathi, is a running commentary on the ills that prevail on the Indian art scene. It shows a nexus among art dealers, experts and art gallery owners,who maintain a stranglehold over country's best artworks for their own profit.
Their unscrupulous acts and deals are only possible due to the unregulated Indian art scene that has now exploded into a booming industry. The lack of authentication and rampant forgery have only made things more obscure.
Tripathi's debut novel is set in 1990s when the Indian artists were coming into prominence and were attracting worldwide attention. The novel takes the Indian art scene as its canvas and paints an elaborate picture of urban moral depravity with many shades of human vices. There are three main characters, Jay Malhotra, a banker, who lords over this unregulated industry, Patty, an art dealer and a socialite who knows all ways to clinch a deal, and Biswas Mukherjee, an art expert who hates commercialisation of art but has willy-nilly become an instrument at the hands of Patty, and later Jay.
Tripathi, an Indian School of Business alumni, has chosen a serious and weighty issue as a subject of his novel and tried to mould it into a thriller. The idea itself is interesting but the approach he has taken appears simplistic. Tripathi has resorted to the tried-and-tested formula — the book opens with the lead character at a Page 3 party, soon a seductress is introduced before the author makes it clear that the couple are now sworn enemies owing to conflicting financial interests.
Jay sees through Patty's plan of using his contacts for investing in the entire collection of Navratnas (nine Indian artists recognised as national treasures). A shrewd banker, he lures her curator Biswas Mukherjee. He steals a march on Patty by hijacking her ambitious project of buying paintings at cheaper rates and then selling these at arbitrary prices.
As is usual with the genre of a thriller, the story has peppering of sexual escapades off and on to keep the reader hooked.
Tripathi has also incorporated some real-life incidents, historical facts, interesting nuggets about nationally and internationally acclaimed artists to breathe life into the book. To bring in topicality, there is a detailed discourse on the current problems dogging the Indian art scene. But all this falls short of giving a pleasurable experience to a fiction reader, rather, it veers more toward a non-fictional account.
As is mandatory with a thriller, it has to be fast-paced, there has to be a twist before the final denouement. Kalayug, a racy read, does have that final twist and it leaves the readers in a shock before it comes to an end.
The novel emphasises that art is no longer an activity pursued for aesthetics alone. It has become an industry, a source of investment. But didn't everybody know it already?
The blurb on the back of the book sums it up as a fun read and a page-turner. And a page-turner it is.
Top News
The former military ruler had left Pakistan in March 2016 fo...
After his failed misadventure in Kargil, Musharraf deposed t...
Military shoots down the surveillance balloon in Atlantic Oc...
The incident took place on Friday when Kambli reached his fl...
CM said only manual excavation of sand will be permitted in ...