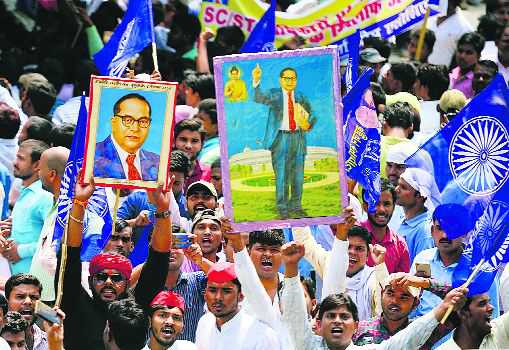 Raja Sekhar Vundru
Sometimes titles can be misleading, this book is about Dalits and not about caste. Suraj Yengde, currently a post-doctoral fellow at the Harvard Kennedy School, belongs to the genre of non-resident Indian Dalit writers, living in the USA, like Yashica Dutt (Coming Out as Dalit, 2019) and Sujatha Gidla (Ants Among Elephants: An Untouchable Family and the Making of Modern India, 2017).
Sujatha and Yashica's writings reflect an enduring Dalit identity and both explain their life's journey to make us understand the impact of caste and Dalit identity. Yashica's story is told with utter honesty and her travails as a student facing casteist fellow students. Sujatha Gidla, now a celebrated writer, reflects the time of her student life, caste discrimination and state oppression vividly. Yengde starts telling his story but abruptly stops with his childhood.
Yengde migrated from India in 2011, studied human rights law in the UK; did doctoral work in Johannesburg on South African Indian diaspora before reaching Harvard. Yengde belongs to a poor Dalit urban working-class family and frequently weaves his autobiographical accounts in the narrative. Interspersing his working-class poverty and Dalit identity, Suraj Yengde tries a myriad one-pager opinions agglutinised into a larger book.
Yengde describes his books as an "ethnography of the sociality of caste". An ethnographer is a participant-observer who spends ample time with the targeted community and cannot pass judgment on his subjects. But Yengde crosses this line and becomes a pamphleteer of varicose anger. For a writer with a Harvard tag, Yengde doesn't bring in any fresh perspective either on Ambedkar or on caste. His ethnography project reflects a puerile anger of his childhood, grossly missing the methodology.
Yengde relies mainly on his occasional NRI-style travels to India and meetings with Dalit employees, among others. The academic rigour disappears in the book and converts into a toxic diatribe against salaried Dalits, juxtaposing as ethnography.
Yengde deals with Dalit matters, with his reflections on being a Dalit, as he classifies Dalits into many shades of Dalits and the middle class. He then focuses on Dalit capitalism and adds an unrelated chapter on Brahminism. He hands us over a new ethnographic classification of Dalits as: token Dalits; conservative Dalits; reactive Dalits; elite Dalits; Dalits as salaried hypocrites; third-generation Dalits; third-generation millennials; self-obsessed Dalits; harmful Dalits; greedy Dalits and radical Dalits. He doesn't tell us to which of these categories he belongs to.
Yengde also attempts to look at the Dalit progress and evolution of post-Independence Dalit development through ethnographic eyes of his childhood. He finds it unacceptable to see Dalit middle class children at an event in Bangalore "armed with sophisticated smart watches and iPhones and cosmopolitan ideas".
He also has a problem with children of salaried Dalits going to private schools. He is critical of the fact that Ambedkar's photo is absent in the drawing rooms of Dalit bureaucrats. He finds a solution though, for the Dalit middle class to "work towards building active solidarity with other oppressed groups in the world". Yengde's analysis of the Dalit middle class is based on hearsay and misses the ethnographic rigour of Gurram Srinivas in Dalit Middle Class: Mobility, Identity and Politics of Caste (2016). For that matter, Yengde finds nothing that enthuses him in the Dalit evolution in India since Ambedkar.
Yengde has three premises in the book. Firstly, to establish that discrimination continues against the Dalits, though he makes no fresh attempt, other than what Yashica Dutt wrote. Secondly, he blames, through his working-class childhood-ethnographic-myopia, Dalit employees, politicians and the Dalit middle class for being "shameless creatures." Finally, he feels that Dalits should join hands with African-Americans in the USA to forward their struggle.
When Ambedkar studied in New York (1913-16), he was a witness to 'Black' struggle to find progress after 50 years of abolition of slavery. Yet, Ambedkar relied on constitutional methods of 1935 and 1950. His engagement with W.E.B. DuBois, the African-American leader and ideologue in 1946, did not go further since he was busy creating the Constitution of India, where he designed remedies to prevent discrimination.
Yengde's work draws majorly on drawing-room blabber and takes a dangerous trajectory into the untested waters of a scathing attack on the Dalit movement and the Dalit middle class, under the garb of ethnography. People, who endorsed the book like Partha Chatterjee and Pratap Bhanu Mehta, must be chuckling at Yengde's ethnographic revelation that "salaried Dalits in the bureaucracy…are one of the finest examples of shameless creatures".
The journey of a discriminated and oppressed humanity of 250 million and their struggle for equality based on constitutional methods is entirely missing in this book.
Top News
Kumar is meeting his MLAs to decide whether the alliance wit...
The strength of the Maharashtra ministry has now gone up to ...
The Bambiha gang in an FB post earlier had claimed that poli...
Tyagi, who is accused of assaulting a woman on August 5, had...