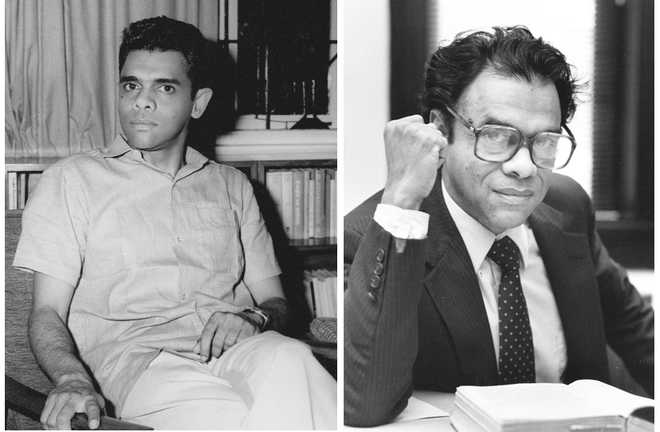 AR Venkatachalapathy
AK Ramanujan, known as AKR and Raman (to friends), was a poet, translator and an essayist. A Padma Shri awardee and MacArthur 'genius' fellow, he was a distinguished academic who taught in the University of Chicago for three decades until he died suddenly at 65. AKR was well-versed in three languages — English, Kannada and Tamil — and wrote in two (he never wrote in Tamil).
However, he earned a lasting fame is as a translator. Almost 50 years after its first publication, his translations of classical Tamil poetry (The Interior Landscape) continue to be in print — it's a New York Review Books (NYRB) classic; the London Underground has used it on its trains. He followed this with translations from medieval Tamil Bhakti poetry and the protest poetry of the Kannada Veerasaiva poets.
A widely respected poet, many of his essays are now termed classics. Crossing academic confines, Is there an Indian Way of Thinking? is widely circulated. Some years ago, his Three Hundred Ramayanas was unceremoniously dropped from the reading list of the University of Delhi, and its history department wrecked by Hindutva vandals for prescribing it. In a kneejerk reaction, the Oxford University Press (OUP) declared that it would stop publishing the essay and the book it forms part of. The OUP backtracked only after leading academics across the world protested.
All this hungama would have made AKR uncomfortable had he been alive. The book under review tells you why.
In the decades following his death, much of his unpublished and uncollected writings were published. However, when in 2013, the young philosopher Nakul Krishna wrote a long essay based on AKR's papers in the special collections of the Regenstein Library of the University of Chicago, readers were in for a surprise. The tantalising quotes from his papers whetted the appetite of AKR fans. Three years later, Spanish scholar Guillermo Rodriguez published his meticulously researched monograph, When Mirrors are Windows: The View of A.K. Ramanujan's Poetics, based extensively on these papers.
Now, in collaboration with AKR's son, Krishna Ramanujan, Rodriguez has gone for the kill. Sifting through more than 70 boxes of AKR's papers spread over four decades, the two have edited Journeys: A Poet's Diary that presents both unpublished prose and poetry. Though not intended for publication, the drafts and notes and longer narratives show AKR to be the careful and sensitive writer that his readers have always known him to be. Using the metaphor of a journey, the editors have organised the entries into five parts, each coextensive with a decade and synchronising with a phase of his life: his early years in India; the journey to America; the budding poet-scholar in the US; his journeys into the self, and the last decade of his life. AKR wrote exclusively in English with the occasional Kannada and Tamil phrase thrown in. The editors have provided useful and indispensable, if perfunctory, notes and glosses.
AKR studied, taught and lived in the US at a time when it was still uncommon for Indians to do so. He was arguably the earliest Indian intellectual in the American academia with little investment in the British cultural world. His notes on his stay in an Oxford college towards the end of his life show what a complete stranger he was there.
This inevitably led to crises of identity. One of AKR's most anthologised poems talks about the stranger in the mirror with his father's autograph in a corner. He famously described himself as the hyphen in 'Indian-American'. In a diary note he calls himself illuminatingly, if less stunningly, as 'a modern post-Christian Hindu'. The jottings, extended passages and his poems in this book reveal a man torn between his Indian/Hindu roots and his immersion in the American cultural world.
For a man of singular accomplishment, AKR is consistently wracked by self-doubt. An enviably productive scholar, he despairs that he cannot write much or even well. Even as he wins acclaim, he is unhappy, dissatisfied. Weighed down by a formidable reputation he is hesitant to be in the public glare. His difficult marriages and divorces — with the same woman — seem to have also exacted their toll. In 1971 he experimented with mescaline — its results can be seen in section four of this book. Obsessed with snakes and dreams, he writes of them and seems to have undergone psychoanalysis. But whatever AKR writes, he writes with great perception and insight, and in such limpid and chiselled prose.
If you are an AKR fan grab this beautifully produced and well-edited book. The photographs and portraits are a bonus.
Top News
Sudha Yadav, Iqbal Singh Lalpura included in both key commit...
Security forces had on Sunday located a group of two to thre...
Doval is a 'Z plus' category protectee under the central VIP...
Kajal is MLA from Kangra while Lakhwinder Rana is MLA from N...
Centre tells SC that it's in active discussion with FIFA to ...