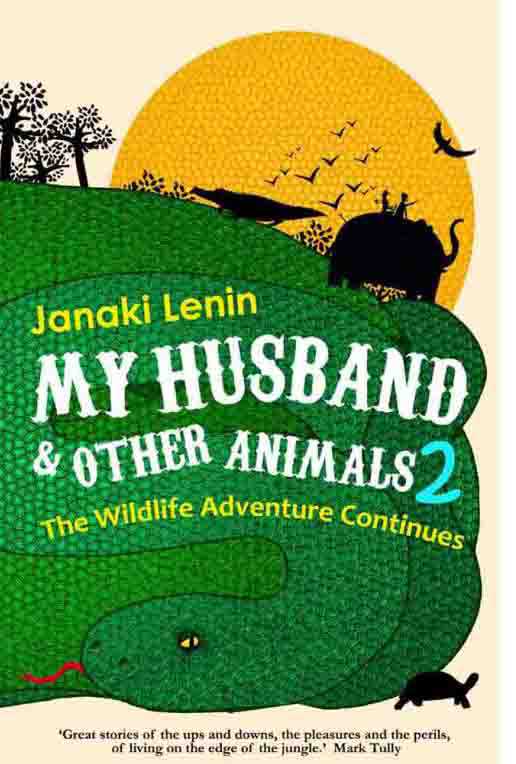 Jayanti Roy
The author has compiled several wildlife experiences that she and her herpetologist husband Romulus Whitaker or Rom had as conservationists, environmentalists, consultants, wild-life film producers and hands-on animal adventurers in this sequel to the book of the same title.
It comprises more than 80 write ups, both short and long, on various topics. These throw light on animal lives and how they connect with humans. The 'connect' part is thought provoking and is rightly garnished with dollops of humour. Lenin deftly unravels a simple observation to gain insights, which are factual, philosophical and funny at the same time.
Along with entertaining incidents, these can be read as life-lessons. The one that is especially relevant is, 'Barring a few exceptions, animals rarely share food. It is common for dominant individuals to snatch food from low-ranking members. So when we feed the animals, what do they make of out gestures? Monkeys begin to see humans as subordinates. Thereafter, if any human withholds food, monkeys will grab, threaten and turn aggressive.' I wish all those devotees who feed animals to ensure divine favour could understand that by doing so, 'We play with animal lives and ours'.
The only jarring note in the book is its illustrations. No doubt beautifully done, these are displayed at the wrong slots. About 14 graphics have been repeated in the book. Reading an elephant story accompanied by the pictures of a pair of strokes or write-up on a crocodile showing a leopard alongside is mismatched and distracting.
Several anecdotes, some of them personal, introduce us to Rom, a fearless nature lover, who deals with compassion even with the most dangerous animals. It is he who converts the author from a city-bred girl to someone who develops deep understanding of life in the jungle. In her earthy style, she writes about Rom's calcified finger after the snakebite, adventures with cobra and irrational decision to visit Andaman and Nicobar islands in lieu of which he surrendered his American passport. The title of the book is thus justified — it is as much about the husband.
The book gives a taste of a languid and slow-paced lifestyle inside the forest, which nevertheless demands hard work and patience. In wildlife literature, we read or study in schools, crocodiles are villainous, leopards are dangerous and all snakes poisonous, making us develop negative perceptions. While reading Lenin, one forms new opinions — crocodiles are caring fathers and tigers are family oriented. This is not a fairy tale, but a book of facts that the author has witnessed and researched.
The book is for all nature lovers.