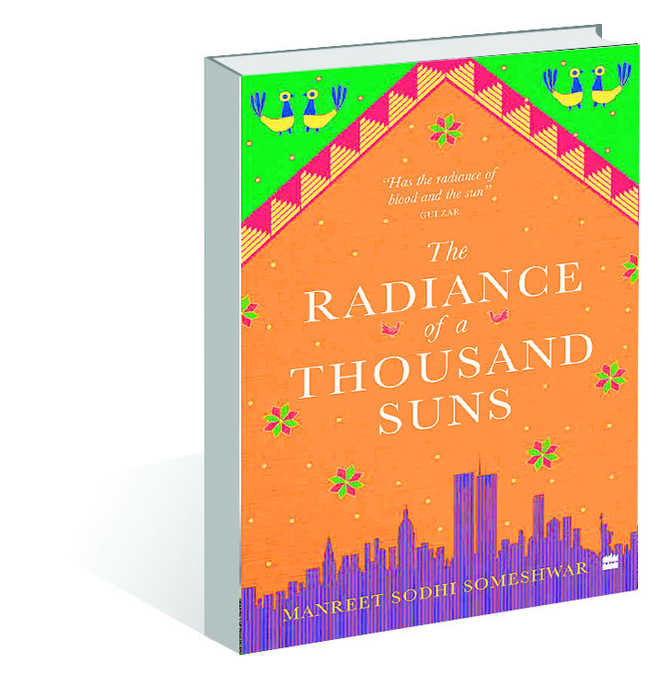 Vikrant Parmar
Partition, Emergency, Khalistan movement, 1984 riots, 9/11 terrorist attacks... Combining them in one intense mix is tough, but, in The Radiance of a Thousand Suns, author Manreet Sodhi Someshwar has done it with relative ease. Add to it a range of emotions — displacement, pain, suffering, grief, elation — and it becomes an interesting read.
From pre-Partition days in Lahore to Delhi and Chandigarh — which India's first PM wanted to build as 'an orderly grid instead of an acculturating hodgepodge' — the story moves to Hong Kong and finally to New York, where the protagonist, Niki Nalwa, has arrived to fulfil an aim: complete her late father's unfinished book about 'the oral histories of survivors of Partition'.
Niki's turbulent childhood is replete with instances where she suffers at the hands of patriarchy and prejudice. She finds her inspiration in Partition-hardened souls, Nooran and Jyot, 'two women bound by similar tragedies'. Niki decides very early in life that 'the world was a terrible place for women... she needed to find a way to fight the odds'. Feminist undertones are palpable in sentences like 'in the presence of women, men's brains descend to their groins' or 'women, like God, have no country, and the whole world is theirs', which are generously sprinkled throughout the narrative.
Niki's aunt Nooran, who loves to sew flies — she remembers them buzzing around the bodies of her family members killed during Partition — on her mother's piece of Bagh embroidery, is a deeply existential character. 'I encountered God long ago; he stinks,' says Nooran. A fiercely liberated woman, she takes no nonsense from her male counterparts, imparts life lessons to Niki and gives up her life in a bid to save Niki's modesty. The harsh reality of Partition, where 'women's bodies became battlefields', has been vividly narrated, so has the fear that gripped people caught in the vortex of 1984 riots.
Time moves on and Niki is neatly placed in Hong Kong with a loving husband and daughter, cushioned by a cosy job. Her father's sudden demise propels Niki back to India, where she gets to know about his dream project and vows to complete it. Taking a sabbatical, Niki moves to New York and, as luck ordained, traces Jyot, who, despite her stoic silence, is an important cog in the wheel. 'Without Jyot's story, there was no way out.'
Running parallel to the plot are excerpts from the Mahabharata, which the author neatly interjects and then juxtaposes with the daily life of her characters. Verses from Bulle Shah resonate in the background, as also the legend of Heer.
The author's language is poetic, carefully sifted and ornately served. She has neatly stitched the past together with the present to reveal a struggle that is universal: women suffer the most during times of crisis. Barring too many time-shifts that form a maze, words shine like sun-lit paddy fields of Punjab and sentences spread aroma of the land.
'As long as there were stories to tell, there was a way to connect', claims the author. Connects she does, quite well.
Top News
Jammu and Kashmir Lieutenant Governor Manoj Sinha and politi...
Cops say case cracked within three days with the arrest of a...
Indonesia football association suspends league to investigat...
Samajwadi Party patron is under treatment in Gurugram hospit...
DGP dismisses Mansa CIA Incharge, FIR registered against err...