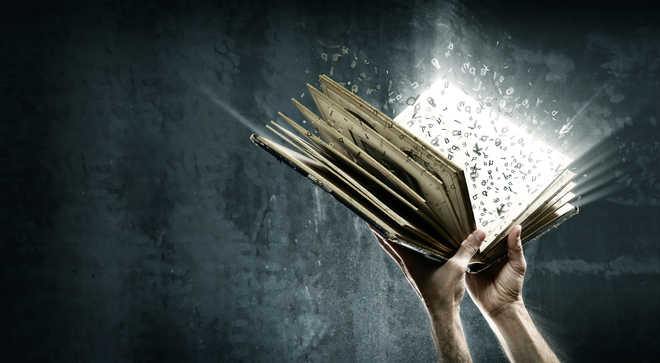 editorial@tribune.com
Sai R Vaidyanathan
Just as food nourishes the body, books provide nutrition to the soul. By being in constant touch with books, scholars make sure that they don't let the soul starve.
Trip to paradise
Saint Yamunacharya had just passed away and 11th century saint Ramanujacharya was there to pay his last respects. He noticed that Yamunacharya's fingers were unusually folded in.
Realising that it was due to an unfulfilled wish, Ramanuja promised to write a commentary on the 'Brahmasutras'. At this, the fingers straightened out.
To fulfil the promise, Ramanuja went to Kashmir to procure an old commentary on the 'Brahmasutras' by philosopher Bodhayana.
When the scholars there refused to help, Ramanuja approached the king. On the king's order, the scholars handed over the work to Kuresha, one of Ramanuja's disciples. On their way back, armed goons sent by the scholars confronted them and took away the work. "Don't worry, acharya. I read the entire text last night and have memorised it," said Kuresha. At home, Kuresha made a copy of the work from memory. Ramanuja studied it and wrote 'Sribhashya', a commentary on the 'Brahmasutras'.
Going by the book
King Gushtasp ruled the kingdom of Balkh in ancient Persia. One night, he had a dream in which a divine person named Zarathustra came holding a ball of fire, sacred book 'Avesta' and a plant.
Gushtasp planted the sapling which told him to follow the path prescribed by Zarathustra. When the fire was handed over to him, Gushtasp realised that it didn't burn his hand. Finally, Zarathustra handed the 'Avesta' to the king.
The next morning, the king went to court and a visitor named Zarathustra sought a meeting with him. He was called in and asked to answer the courtiers' questions. Satisfied, the king agreed to abide by the teachings in the 'Avesta'.
Knowledge is ever free
In 1908, Bal Gangadhar Tilak was arrested for sedition over an article he had written. He was sentenced to transportation for six years and deported to Mandalay jail in Burma where his only companions were birds and books. During his stay lasting five years and eight months there, he began writing 'Gita Rahasya', a treatise on the Gita.
Language of masses
Saint Narharidas taught Rambola, a boy under his care, to read and write. One day, he saw that the boy was trying to read Valmiki's 'Ramayana' in Sanskrit all by himself. So, Narharidas took Rambola to Acharya Shesh Sanatan to learn grammar and Vedas. Then as Tulsidas, Rambola began giving discourses on the Ramayana in the local language and later wrote the 'Ramcharitmanas'.
Favourite subject
19th century saint Narayana Guru studied under his maternal uncle Krishnan Vaidyar. Among the books his uncle had, Narayana's hands went towards one particular subject — Vedanta.
Once when Narayana translated a verse that Vaidyar couldn't, he had the boy sent to renowned Sanskrit teacher Raman Pillai Asan. Soon Narayana attained proficiency in all the subjects Asan taught. So his teacher decided to tell him about Vedanta, a subject that he had long been drawn to.
The author can be contacted at author.sai@gmail.com