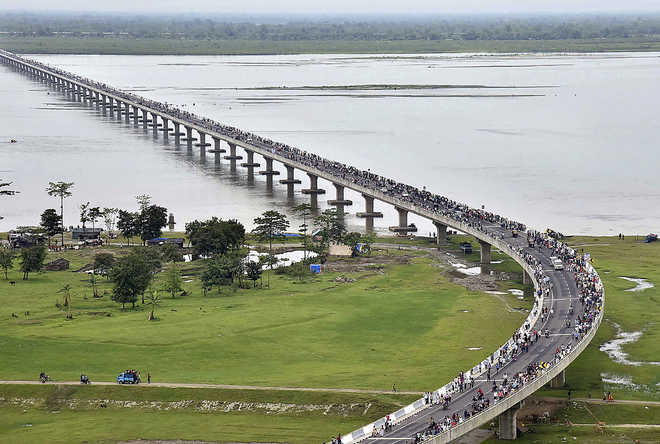 Shyam Saran
Shyam Saran
Former foreign secretary and senior fellow, centre for policy research
IN the recent past, considerable attention has been given to building transport infrastructure in India's Northeast, improving connectivity both within the region and across the border with neighbouring countries. Connectivity has improved through the construction of highways, railways, airports, revival of river transportation and the laying of digital cables. These are important and positive developments which have implications for national security and economic development of a strategic and vulnerable part of our country.
Connectivity in the Northeast must be taken up in three inter-related aspects. One, connectivity between the states and the rest of India through the narrow Siliguri corridor. Two, connectivity within the region linking up various states. Three, cross-border connectivity with the neighbouring countries, namely Nepal, Bhutan, Bangladesh, Myanmar and China. These aspects are inter-related and must be developed in tandem. For example, even if cross-border highways are constructed, they will not serve the purpose of expanding balanced trade flows or generating growth and employment in the Northeast, if backward linkages with the rest of India and its vast market remain weak. It is also necessary to create a dense network of transport linkages among the different Northeastern states so that there is a smooth flow of goods, people and services. Major cross-border linkages are being established with Myanmar and Bangladesh and through them to countries of Southeast Asia. However, if this cross-border infrastructure does not go hand-in-hand with backward linkages traversing the Northeast and beyond to the rest of India, these border areas may soon get alienated from the national mainstream. This is what has happened in Myanmar, where its northern ethnic areas are more fully integrated with southern China than with the rest of the country.
While the Siliguri corridor is only 22 km across, it is wide enough to accommodate several additional highways as well as railway lines, rather than the current singular arteries which are subject to frequent disruptions. We should explore building additional links across southern Nepal and Bhutan. The revival of pre-partition transport links across Bangladesh has also become feasible, thanks to the steady improvement of relations with that country. The network of rivers which criss-cross India and Bangladesh should be revived for cheap and convenient transport.
For defence along our northern borders in Arunachal Pradesh, there are two key requirements. One, we need reliable and heavy load-carrying capacity rail and road links across the Brahmaputra valley, particularly over its northern bank abutting Arunachal. Two, these must then be connected to the several roads running north towards the LAC between India and China. These roads are all through densely forested and mountainous terrain, across which there are swift flowing mountain streams. The region is prone to frequent landslides, avalanches and flash floods. The construction of roads and their maintenance are challenging. Both these requirements must be met at all times. If supplies from the rest of India are disrupted or, having arrived in the Northeast, cannot be carried from the southern part of the valley to the northern part, having a good network of mountain roads will not be of much use.
It is imperative that the trans-Arunachal highway on the northern bank of the Brahmaputra be completed soon. There are still several gaps remaining in this 1,500-km highway. The situation is better with respect to the construction of some key bridges, including the recently inaugurated Bogibeel bridge and Dhola-Sadiya bridge (across the Lohit).
The southern bank of the Brahmaputra is connected to Meghalaya, Tripura, Manipur and Nagaland through road and rail links. Guwahati and Silchar serve as critical transport hubs. From Guwahati, there is one alignment going down to Shillong and Silchar. This provides access to Agartala, Aizawl and Imphal. Another alignment goes to Tezpur and Dimapur (Nagaland), which, in turn, serve as other critical transport hubs. But this existing infrastructure is overloaded and needs urgent expansion. It is also in a dilapidated condition due to overloading, and this is particularly true of the several bridges in the region. These are in urgent need of replacement. Both Silchar and Dimapur must be developed as modern transportation and logistics hubs, well connected to each other through rail and road links and serving the entire sub-region south of the Brahmaputra. These could emerge as key connectors to Myanmar and Bangladesh.
There are several major hydel power projects in Arunachal that are under construction or in the pipeline. One reason why some bridges are in a poor state is because they carry cargo way beyond their load capacity, thanks to the requirements of the hydel projects. It is necessary to study the impact of the projects on the ongoing and proposed rail, road and other construction activity. A cursory study indicates significant submergence and likely subsidence in the major project areas. Environmental Impact Assessments have been carried out for individual projects, but no study has assessed the cumulative impact.
The greater focus on infrastructure building is timely. However, it is important that it follows an overall plan which takes into account the economic and security imperatives and safeguards the very fragile ecology of the region, particularly Arunachal. While building new and modern assets, the need to maintain existing infrastructure and planning renewal and expansion must be accorded equal attention. 'Act East' involving cross-border infrastructure must be accompanied by a 'Build West' strategy of improving connectivity with the rest of India. The former must not be seen as a substitute for the latter. In fact, the latter must enjoy priority.
All readers are invited to post comments responsibly. Any messages with foul language or inciting hatred will be deleted. Comments with all capital letters will also be deleted. Readers are encouraged to flag the comments they feel are inappropriate. The views expressed in the Comments section are of the individuals writing the post. The Tribune does not endorse or support the views in these posts in any manner.