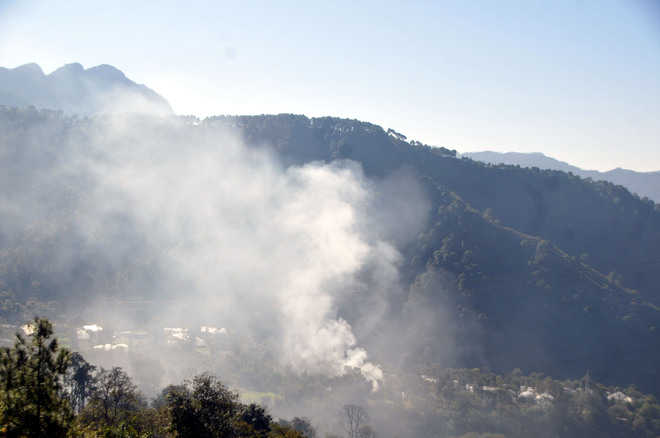 editorial@tribune.com
Kuldeep Chauhan
Tribune News Service
Shimla, December 5
With the onset of winter, farmers have started burning dry leaves and twigs in many orchards, resulting in air pollution, contributing to asthma, respiratory diseases and allergies in the areas, observed the state pollution board, which has issued an advisory on the menace.
Farmer bodies have urged the state government to launch an awareness campaign to educate farmers.
A thick layer of smog was visible all over Theog, Jubbal-Kotkhai, Chopal, Rohru and Nankheri Rampur in Shimla district. It could be seen over Anni, Dalash, Tirthan, Kullu in Kullu district and Seraj and Karsog in Mandi district, said farmers.
The burning of green twigs and fallen leaves was likely to increase further once the farmers in higher belts started clearing orchards this month-end, said Laxman Thakur, a farmer from Nandpur. The pollution board, forest, horticulture-agriculture and local administration should launch the a drive against air pollution, he said.
The government should give subsidised shredders to farmers so that they could cut the twigs into small pieces that could be used for composting, said Surender Thakur, a apple farmer from Shilaru.
They had urged the Centre to include Himachal in the Rs100-crore Crop Residue Management Scheme to tackle the issue of green twigs burning, but nothing had been done for two years.
President of the Seb Utpadak Sangh and Theog legislator Rakesh Singha said small and marginal farmers need to be trained for making compost from biodegradable twigs," he added.
Member-secretary, state pollution control board, Dr RK Pruthi, said they had issued advisory to farmers not to burn the twigs, dry leaves, grass and bushes. "We will take up the issue with horticulture and agriculture departments to educate the farmers on its harmful effects", he added.