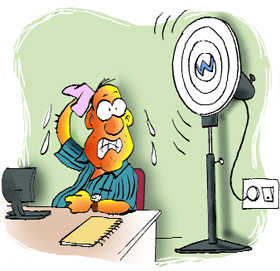 Neeraj Bagga
Tribune News Service
Amritsar, July 26
Amritsar's once famous fan manufacturers and carpet weavers are on the verge of extinction due to high input cost, shortage of skilled labourers, lack of innovation and flight of production units to other states.
The number of fan manufacturers has shrunk to less than 70 from over 2,500 units in early 80s, industry experts said. Amritsar, which was a major hub for producing various types of fans — ceiling, table, exhaust and pedestal — is now struggling to survive.
"Gradually, Amritsar industry has lost to other production centres such as Ghaziabad, Delhi and Varanasi. As these centres are closer to source of raw materials, the Amritsar units lost on competitiveness," said Baladev Singh, a fan manufacturer of Amritsar.
The manufacturers also complained that discontinuation of freight equalisation policy made the raw material costlier for the city-based manufacturers as compared to manufacturers of other states.
Skilled workers also migrated for better future to other states with the growth of similar industrial clusters in different parts of North India, the manufacturers said.
Former fan manufacturer-turned-hotelier Satnam Singh recalls that once flourishing business has become a cottage industry where the proprietor is the worker and his residence is the workshop. He blames the government's apathy for the misery. "Leave aside any bailout package, no government ever bothered to even constitute a commission to take stock of the problems the industry is facing," he said.
The government officials have been evasive on this matter. The department does not keep trade-specific numbers of industrial units. Besides, it is not mandatory for industries to register themselves with the department, Department of Industry and Commerce Deputy Director BS Brar said. He said no assessment was ever carried out to know the status of local industries.
The carpet industry of the city has a similar story. It has been facing hard times because of acute shortage of trained manpower.
The city, which was once known for hand-made Persian-style carpets (Bukhara style), is witnessing its extinction. The city had seen the glorious days of carpet weaving as Amritsar's products used to be exported to Russia and European countries until 1995.
Industrialists also link the attitudinal change to this decline. Weaving is mainly done by skilled women. Weaving required extremely focused attention and arduously long sitting hours. Besides, disenchantment due to low salaries, TV serials also distracted the women workforce. Increased awareness towards girls' education and attractive career options also led to the shortage of trained workforce.
Carpet exporter Vikram Makhani said a steep reduction in GST rate was unlikely to revive the industry. Focal Point Industries Association chairman Kamal Dalmia said the government could revive these clusters by providing financial incentives and technical assistance.