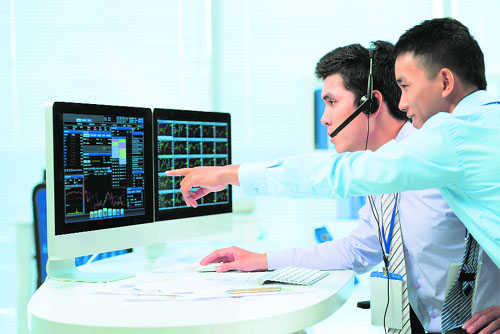 Vikas Singhania
Since November 8, 2016 when Prime Minister Narendra Modi announced the demonetisation of Rs 500 and Rs 1,000 notes, the country has seen a significant improvement in embracing digital payments over cash. To sustain the momentum and encourage it further, Finance Minister Arun Jaitley announced a series of incentives that marked completion of a month of demonetisation. The incentives range from discounts at fuel stations, booking railway tickets online, insurance policies purchased and payments made at toll plazas.
Trading apps
The massive push to cashless and online transactions in India means retail investors in stock market will now increasingly turn to their mobile-based trading apps for its convenience, efficiency and security. We have already seen the launch of a series of trading apps by broking firms which offer big-data analytics and now artificial intelligence to trade better and faster from the mobile.
With bank accounts now getting linked to mobiles, we will see more retail investors moving to mobile/internet-based trading, which is getting seamless with little interference from brokerage houses.
Moreover, broking houses too have realised the importance of technology and are thus making sizeable investments to make their products and services faster and smarter. In fact, broking houses now focus on offering better technology to their investors rather than fight on brokerage/commission rates.
New products
Soon, we will witness the next level of technology development where apps will permit brokers to offer their e-KYC to their customers. With e-KYC, brokers can open trading account for customers electronically. Investors with Aadhaar number and PAN can start trading in five minutes if they have registered their signature electronically.
Recently, many technology companies have launched a series of new products for the broking community, which will be soon integrated by several broking houses in different formats and that will help revolutionise the customer experience.
Fastest-growing market
India has already become the world's fastest-growing market for mobile-based stock trading since its launch in 2010. On the National Stock Exchange (NSE), the turnover of mobile transactions has increased by 350% in the past year — from Rs 37,900 crore in March 2015 to Rs 1,70,800 crore in November 2016. We believe these figures could double in the next two years. The contribution of mobile trading to total turnover could thus rise from 1.75% now to 3-4%.
Mobile trading is favoured by retail investors whose ticket size of investments is low. Increasingly affordable smartphone devices and cheap internet plans have surely helped push mobile-based trading. All you need is a smartphone and a trading account with a broker. After shopping and booking taxis, it is a natural progression for mobile users to start trading on their hand-held devices for stock trading. The ease of trading while on the move is the primary reason for customers shifting to the platform. Mobile-based trading has also made the stock market accessible to investors in small towns.
Points to keep in mind
* Investors must understand the issues and limitations of online investing. You may occasionally experience delays on these new systems. Demand has grown so quickly that many firms are racing to keep pace with it. You may have trouble getting online or receiving timely confirmations of trade executions. You should investigate and understand options and alternatives to executing and confirming your orders if you encounter online problems.
* Investors may sometimes be surprised at how quickly stock prices actually move. For example, many stocks have recently had dramatic and rapid price movements. When many investors attempt to purchase (or sell) the same stock at the same time, the price can move very quickly. Just because you see a price on your computer or mobile screen doesn't mean that you will always be able to get that price in a rapidly changing market. You should take precautions to ensure that you do not end up paying much more for a stock than you intended or can afford. One way to do this is to use limit orders rather than market orders when submitting a trade.
* Those investors who are buying securities on margin may not fully understand the risks involved. In volatile markets, investors who have put up an initial margin payment for a stock may find themselves being required to provide additional cash (maintenance margin) if the price of the stock subsequently falls. If the funds are not paid in a timely manner, the brokerage firm has the right to sell the securities and charge any loss to the investor. When you buy stock on margin, you are borrowing money. And as the stock price changes, you may be required to increase the cash investment. Simply put, you should make sure that you do not over-extend.
* While new technology available to retail investors may resemble that of professional traders, retail investors should exercise caution before imitating the style of trading and risks undertaken by market professionals. For most individuals, the stock market should be used for investment and not trading. Strategies such as day trading can be highly risky, and retail investors engaging in such activities should do so with funds they can afford to lose.
The writer is Executive Director, Trade Smart Online. The views expressed in this article are his own