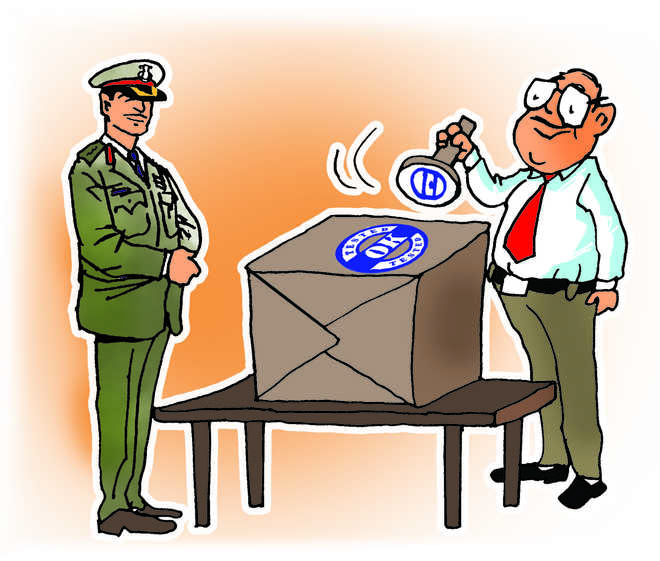 Vijay Mohan
Tribune News Service
Chandigarh, May 17
To promote the ease of doing business and give a fillip to the 'Make in India' programme, the Ministry of Defence (MoD) has allowed private industrial units and PSUs to self-certify the quality of items being supplied by them to the armed forces.
At present, all items procured by the services are subjected to trials and evaluation by the Directorate General of Quality Assurance (DGQA), an organisation under the Department of Defence Production in the MoD.
Self-certification status would be allowed for only those industrial units who have quality systems that meet the requisite standards. "It encourages them to assume direct responsibility to sustain and improve the standards of quality. In light of the government reiterating self-reliance in the manufacture of defence products, this scheme assumes greater importance," the policy issued on May 13, 2019, states.
Self-certification entails delegating the responsibility of certifying the quality of products to the manufacturer on behalf of purchaser, after ensuring the demonstration of the manufacturer's capability of consistently producing defect-free products over a period of time.
This scheme is open to all defence PSUs and private vendors with state-of-the-art manufacturing infrastructure and who have demonstrated capability to consistently fulfil the stipulated requirements.
Under the policy, defence PSUs and private vendors having a consistently maintained supplier rating of above 90% and process capability index greater than 1.33, quality management system certified as per ISO 9001:2015 and test laboratories in conformity with ISO/IEC 17025 will be eligible.
The DGQA would be the authority to issue self-certification status to the suppliers on the basis of recommendations of an assessment team. A detailed assessment matrix has been formulated for the same and the status would be valid for three years at a time, though there are provisions to withdraw it earlier if the situation so warrants.
While the DGQA will not issue inspection notes for consignments supplied under self-certification status, it would be free to carry out random audit of the processes and quality system of the suppliers.
Top News
Gilon also pulls up Indian social media users doubting the h...
Actor Anupam Kher condemns Nadav Lapid's controversial remar...
The troops fire at the drone at 11.05pm on Monday after they...
Initially, the cops believe Amritpal Singh's story but when ...