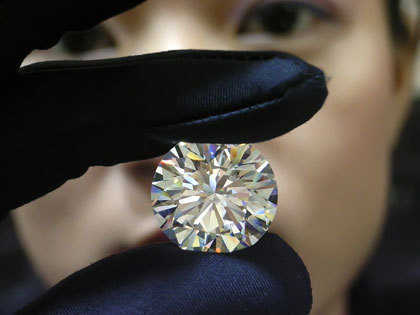 Shiv Kumar
Tribune News Service
Mumbai, August 20
As many as 40,000 people employed by the diamond cutting and polishing units in Gujarat, Rajasthan and Maharashtra are estimated to have lost their jobs in the past few months after a plunge in the global prices of the sparklers dented India's exports.
"We have taken an early Diwali this year and sent many workers home. There is a fear that many small diamond cutting and polishing units may not reopen after the 10-week Diwali vacation," says Anuj Mehta, a diamond exporter with operations in Mumbai and Surat. While several workers were laid off around March the number increased over the past four weeks, according to sources in the industry.
Exports of small cut and polished diamonds, which is dominated by Indians, have fallen sharply over the past year with the main markets of the US and Europe buying less. "Diamond exports have been falling sharply since April," says an official from the Gem and Jewellery Export Promotion Council (GJEPC).
As per data put out by GJEPC, exports of polished diamonds in the first quarter of the current financial year fell 18 per cent to US $ 6.7 bn from US$ 8 bn the previous year. Diamond exporters say orders for the forthcoming Christmas-New Year season have fallen sharply.
"Exports for the whole year may well fall below the US$ 20 bn mark," the GJEPC official said.
The buzz in the diamond industry is that polishing units are sitting on inventory worth Rs 75,000 crore waiting for an uptick in prices. However, importers who are aware of the situation are demanding reduction in prices citing fall in global demand, according to sources.
With Indian cutting and polishing units which account for 90 per cent of the global trade not buying rough stones, global miners are suffering huge losses. According to trade reports Argyle, one of the biggest miners of rough diamonds in Australia, is shutting down its mines from 2020.

Top News
Congress has lodged an FIR against him by for peddling a fak...
Vivo is a Chinese smartphone-manufacturing company
Says wants to develop friendly policing in the state