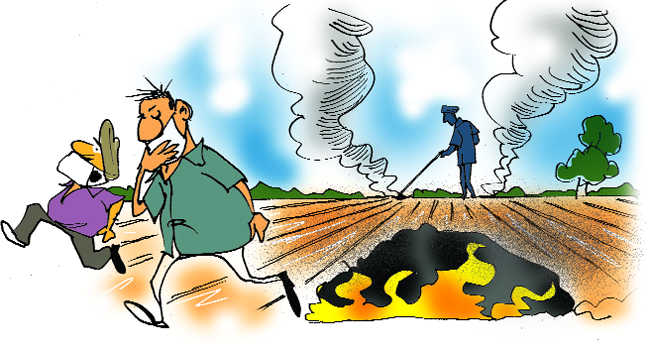 Vijay C Roy
Tribune News Service
Chandigarh, September 21
The NDA government ambitious plan to check air pollution in Delhi that is spread mainly due to stubble burning in Punjab and Haryana seems to be a distant dream as its proposed ethanol producing units are unlikely to be commissioned before 2020.
Official sources said the proposed first second generation (2G) ethanol bio-refinery by Hindustan Petroleum Corporation Ltd in Bathinda would take at least two years for completion after the award of the contract. State-run HPCL is yet to award the tender.
According to a recent official statement, which quoted Petroleum Minister Dharmendra Pradhan, the foundation stone of country's 2G ethanol bio-refinery in Bathinda was laid on December 25, 2016.
A state government official said the foundation stone was laid when the SAD-BJP alliance was in power, but its progress has slowed since the Congress formed the government in the state in early 2017.
The plant was proposed to help the state government in managing the crop residue and prevent straw burning, a major cause of air pollution, particularly after the Kharif harvest in the winter. The paddy crop harvest normally takes place in October.
"We are in process of allocating EPC (engineering, procurement and construction) contract to the vendor. For the purpose, we have already floated a tender and hope to allocate it very soon. Once operational, we will use over 400 tonnes of paddy straw per day in addition to other bio-mass. The plant will take at least two years to commence production after the award of contract," said a HPCL
official, who did not wish
to be named.
The situation in Haryana is also the same. Indian Oil Corporation's (IOC) proposed 100 kilolitre per day capacity bio-refinery at Bohali village in Panipat is expected to be commissioned in September 2020. The Rs 1,000-crore project was announced in 2017.
"The proposed plant at Panipat will deploy 'enzymatic hydrolysis process' for production of ethanol. We expect the plant will be operation by September 2020. It will use 700 tonnes of paddy straw per day and produce 100 kilolitre of ethanol per day," a senior official in IOC said.
The HPCL has, however, signed an MoU with DBT-ICT (Institute of Chemical Technology) for supply of technology to its Bathinda unit, officials said.
"It will use 400 tonnes of agriculture residue per day or 1.28 lakh tonnes of biomass as fuel and shall have a production capacity of around 100 KL ethanol per day and around 3.2 crore litres of ethanol annually. This will be enough to meet 26 per cent of the ethanol requirement of the state," said the company official.