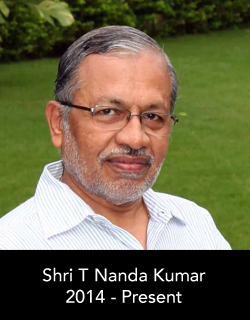 The National Dairy Development Board (NDDB) has established a network of dairy cooperatives in which around 15.6 million dairy farmers are procuring 40 million kg of milk every day. T Nanda Kumar, chairman, NDDB, talks about the dairy scenario and FarmersFirst campaign to support farmers in times of distress by promoting milk products from dairy cooperatives.
Q: NDDB has launched a campaign to promote products from dairy cooperatives. What is the rationale and theme of the campaign?
A: The last few years, including the current year, have been difficult years for farmers in our country. Successive droughts and other natural calamities coupled with volatile international prices have put substantial stress on livelihood of our farmers. Farmers need support at this time. NDDB's mandate is to promote farmer-owned organisations. Through its various programmes, it has promoted and assisted in establishing robust network of dairy cooperatives to which almost 15.6 million dairy farmers are connected directly or indirectly for their livelihood. These dairy farmers have organised themselves to produce, process and market quality milk and milk products at reasonable rates to the consumer.
The theme of the campaign is 'FarmersFirst'. Through this campaign, awareness is being created among consumers to acknowledge the contribution of dairy farmers in their daily lives through ensuring the best quality milk at reasonable rates, every day, without fail.
The campaign seeks the support of consumers by buying milk and milk products of cooperatives which would ensure that minimum 75% of the price paid by them reaches dairy farmers.
Q: Would this imply asking consumers to stay away from private sector brands?
A: NDDB believes that dairy development is not about commodity called milk, but about social and economic transformation of dairy farmers in the country. This is not a negative campaign. This is not also about discouraging anyone. This is about making the consumer aware of the impact of a conscious choice he can make to help farmers without incurring any additional cost. In fact, the consumer may even save money in certain cases, while getting safe and pasteurised milk.
Q: What is the size of the cooperatives and farmers associated with NDDB? How much milk is being produced through these cooperatives?
A: Around 15.6 million dairy farmers are associated with NDDB through 1.6 lakh village-level Dairy Cooperative Societies and 210 Milk Cooperative Unions. NDDB provides required managerial, technical and financial support that enables them to ensure maximum returns to their dairy farmer members. At present, 40 million kg/day of milk is procured by these dairy cooperatives across the country.
Q: What are the future plans of National Dairy Development Board?
A: NDDB has initiated the implementation of National Dairy Plan phase-I with the objective of increasing milk production through improved milk productivity of milch animals and to provide access to organised milk processing sector for more and more milk producers in India. Phase-II of the National Dairy Plan which would focus on strengthening the milk processing capacity of cooperatives is at a preparatory stage and is expected to be initiated during 2019-20.
Another major initiative of NDDB is to focus on feeding balanced ration to animals so as to reduce cost of production of milk for milk producers and ensure enhanced margins from the sale of their produce with the use of IT applications and now a mobile app (Pashu Poshan), NDDB has been able to provide dairy farmers a tool to make dairying viable.
NDDB through its wholly owned subsidiary Mother Dairy (SAFAL) has embarked upon an initiative to bring about a holistic change in the entire value chain of pulses in the country. The objective is to ensure better price to the farmers by providing market linkage, bring in transparency in the pulses value chain and ensure fair price to the consumers. NDDB has also initiated setting up of "NDDB Foundation for Nutrition" to address the issue of malnourishment in children. The foundation would also provide a platform for corporate to contribute funds under their CSR obligations or otherwise for this noble cause of ensuring nutrition to children.
Q: What are the new offerings in value-added segments that NDDB has launched recently?
A: NDDB has also set up a wholly owned subsidiary named Mother Dairy which procures milk from dairy farmers and markets milk and milk products. With changing food habits and preferences of the consumers, most of the milk marketers are not remaining limited to naturally healthy or fun for you (ice-cream, sweets) products but have ventured into offering products which are good for you (yoghurt, paneer, cheese), better for you (reduced fat, low-sugar products) and nutraceuticals (sports nutrition, weight-loss supplements). NDDB assists them to develop such products through its research and development wing.
Q: What is the size of the dairy industry in India?
A: Domestic milk production is around 400 million kg/day out of which 240 million kg/ day is available as marketable surplus. Almost 70% of this marketable surplus i.e. 170 million kg/day is handled by the unorganised sector and the rest 30% is handled by cooperatives (40 million kg/day) and organised private sector (30 million kg/day).