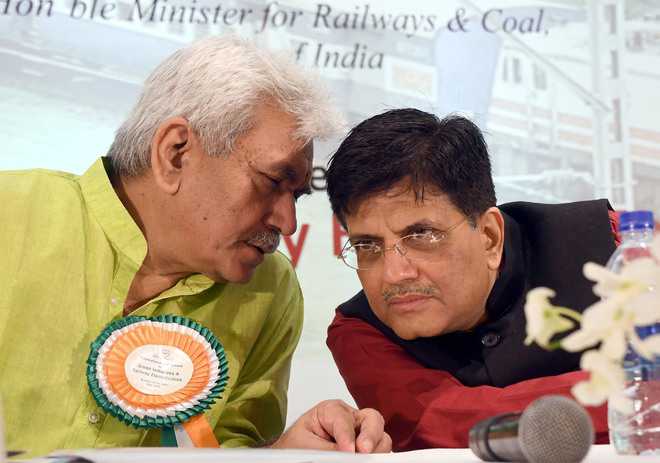 Tribune News Service
New Delhi, October 27
With the Indian Railways launching its first set of solar plants having cumulative capacity of 5 MW, Minister for Railways Piyush Goyal today announced that the national transport monolith is aiming to commission such facilities for 1,000 MW in the coming days.
Noting that the project is part of India's solar mission, Goyal said, "We have taken it up with an aim to reduce Indian Railways' carbon footprint."
The minister launched the plants at the inauguration of the "International Conference on Green Initiatives and Railway Electrification" here. "We are working in a time-bound manner to skillfully and effectively transform the Indian Railways into a world-class transporter. We shall be able to accomplish 100% electrification at lower prices with an incentive-cum-penalty scheme," he said, adding all payments of the Railways will be done within 30 days.
The plants on the roof tops of Hazrat Nizamuddin, New Delhi, Anand Vihar and Delhi railway stations will generate 76.5 lakh units of solar power cumulatively per year, and shall meet about 30% of the energy requirement of these stations.
Through the project, the Railways will save Rs 421.4 lakh annually and will reduce 6,082 tonnes of CO2 emissions.
The project was awarded in December 2016. The cost of the project is Rs 37.45 crore and has been brought in by the developer under the PPP model.
The developer will also maintain it for 25 years and the Railways will only pay energy consumed at Rs 4.14 per unit, officials said.
Goyal added that the Indian Railways has targeted 10% reduction in energy consumption in non-traction operations, thereby saving about Rs 250 crore annually.
The two-day International Conference on Green Initiatives and Railway Electrification will deliberate on finding new ways to increase the use of renewable energy by the national transporter.
Top News
Govt awaits world body's report on Gambia deaths
The feud dated back a year, the sheriff said, and "got prett...
Drugs Control Administration orders withdrawal of all batche...
While Gurpreet Kaur lived in San Jose, husband and his fathe...
Says Russian leader's nuclear threat biggest risk since Cuba...