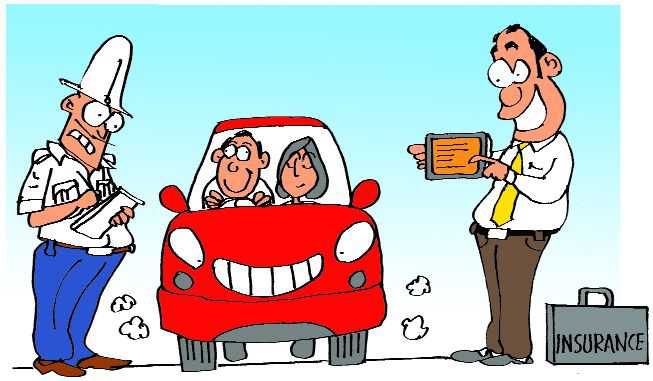 Vijay C Roy
Tribune News Service
Chandigarh, September 11
If you receive a message 'Now you can be fined Rs 2,000 and/or put in jail for up to 3 months for driving an uninsured vehicle. Get insured now!' on your mobile phone, don't get surprised or assume that it is from traffic police or law enforcement agencies. Digital insurance platforms or online insurance service providers are sending these types of messages and mailers to potential customers.
According to industry estimates, around 75-80% of two-wheelers (nearly 1 crore) and 15-20% of four-wheelers are uninsured in Punjab and Haryana, despite motor insurance being mandatory under the law.
With the implementation of Motor Vehicles (Amendment) Act, 2019, the digital insurance providers have added more thrust to marketing by communicating to existing and potential customers in the region through different mediums such as SMSes/mailers, digital contents and blogs on road safety issues.
"We have added more thrust through our digital content and blogs to communicate about road safety issues. Any discounts or incentives offered by our insurance partners get reflected on our platform for our current and potential customers," said Balachandar Sekhar, CEO, RenewBuy.com.
With the implementation of new Act and marketing thrust, the renewal of vehicle insurance policies has a seen a significant increase. "Until recently, around 80% of two-wheeler owners (approximately 13-14 crore) had not renewed their motor insurance. However, the implementation of Motor Vehicles (Amendment) Act, 2019 has led to a six-fold jump in two-wheeler motor insurance purchases across the country," Sekhar said.
Customers prefer digital medium for buying insurance policy because it is much easier and saves time besides offering comparison of premiums by different companies.
Similarly, Policybazaar.com has increased its visibility through digital media channels. As a result, the two-wheeler policy renewals have gone up significantly. According to Sajja Praveen Chowdary, Business Head, Motor Insurance, Policybazaar.com, 10,000 policies of bikes were sold per day earlier on an average. Now, it has grown to 75,000 policies per day.
The renewal rate among car owners has gone up by more than 70% from 3,500 per day to 8,000 policies per day.
"Out of 100 customers coming for renewing their policies, 60% of the bike customers had an expired policy and 30% of car customers had an expired policy. However, in the past six days, 87% of bike customers and 52% of four-wheeler owners had an expired policy," Chowdary added.
"We are also experiencing an average increase of 4-5 times in insurance renewal enquiries for old two-wheelers," said an executive working with Bajaj Allianz General Insurance. On an average, around 50,000 two-wheelers are sold across the country every day .
Uninsured vehicles in Punjab, Haryana
Two-wheelers 75-80%
Four-wheelers 15-20%
.