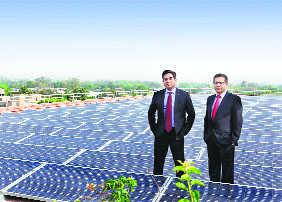 Adarsh Das, Kushagra
Nandan, SunSource Energy
talks to Girja Shankar Kaura
Of late, the government has been stressing on renewable energy and some entrepreneurs have decided to take this mission forward. Adarsh Das, CEO and Kushagra Nandan, president and COO, SunSource Energy, talks about future of their company and solar power in India.
How did you start SunSource? How did you come together?
We overlapped at University of Massachusetts nearly a decade-and-a-half ago while doing MS in solar engineering. We stayed in touch over the years after graduation. In 2008-2009, our respective companies started working together to develop solar projects in the US. That's when we decided to head back to India to work on the segment. In 2010, soon after the National Solar Mission was announced, we decided to launch the venture.
What drives your belief in solar power?
We've been part of the global solar industry for nearly two decades. The Indian market is driven by macro-trends converging in the global and Indian markets. One is increasing power tariffs, driven by fuel commodities' long-term rise and volatility. Second is the steadily decreasing tariffs or cost of solar power. Third is the huge need for massive and quick MW capacity additions in the Indian grid and other emerging markets. These trends and drivers are long-term and are going nowhere. This is why we believe in the core and secular growth of solar market. Fundamentals favour solar.
Additionally, solar is receiving positive attention from the central and state governments. With our track record and capabilities, we believe we are well positioned to take advantage of these trends that are yet to play out in market.
What type of projects the company is undertaking?
Till date, we have built nearly 60 projects in 12 states across India. Our projects were mainly executed on a turnkey EPC basis, but occasionally, we have also helped others build and rebuild solar projects.
Having designed and executed projects for and in the US and global markets, we have that technical edge which the Indian market requires. We bring the optimised solar technology at the most affordable prices.
How do you read the current market prospects in the segment?
We are focused on decentralised solar generation for commercial and industrial clients. We believe that over the long-term, a bigger story lies in behind-the-meter, rooftop, captive-type projects that go straight to benefit the client's bottomline. Along with net metering, which is becoming common in more and more states across India, we believe this has the potential to change the entire power market landscape over coming years.
In terms of MW, we of course see the biggest volume will come from the larger government procurement and the PSUs like NTPC, driving giga watts of solar power projects.
Which are the key states driving solar power growth?
It varies a bit by year. Punjab, Madhya Pradesh, Rajasthan, Andhra and Telengana, are at present active. Maharashtra and Tamil Nadu have been again becoming active.