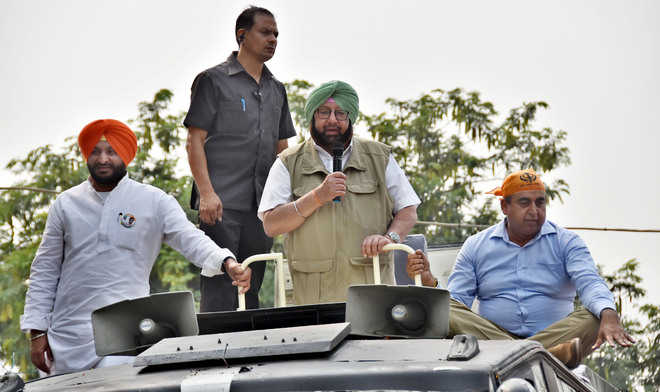 editorial@tribune.com
Tribune News Service
Ludhiana, October 17
While campaigning for Congress candidate Sandeep Singh Sandhu in Dakha, Chief Minister Capt Amarinder Singh today accused SAD president Sukhbir Singh Badal of "putting Punjab's water claim at stake by supporting the INLD in the Haryana elections". He took on Sukhbir over the Akali Dal's ambiguous relations with the BJP.
Given INLD's stand on the water issue, anyone siding with the Chatualas was clearly a threat to Punjab's water rights, said the Chief Minister. While extending support to the INLD and pitching against the BJP in Haryana, Sukhbir and his party were, at the same time allying with the latter in Punjab, Captain Amarinder pointed out, describing the Akali leader as a "power-hungry" politician.
Sukhbir's behaviour had also exposed the fissures between the SAD and BJP, said the Chief Minister, adding that a split in the alliance in Punjab seemed more than imminent.
Talking to mediapersons during his roadshow in Dakha, Capt Amarinder said poor devotees desirous of visiting the gurdwara during the 550th Parkash Purb could not afford taxes and passports. These things, he said, were against the ideology of "khulle darshan", which his government was fighting for.
It was his second roadshow in the constituency. The Chief Minister's convoy passed through Latala Mandi, and moving via Chhapar, Dhurkot, Gujjarwal, Chaminda, Jodhan, Khandoor, Jangpur, Jassowal and Hans Kalan, it culminated at Roomi village. "The enthusiasm of the people showed that the mood was completely in favour of the Congress once again," he claimed, reiterating that the party was all set to sweep the byelection in all four segments.
"The works done by the Congress government in the state over the last two-and-a-half years spoke for itself, and the people would once again vote for this positive agenda of our party. Our government has ensured smooth procurement of paddy, announced health insurance for all, powered the state's industrialisation and waived farm debts, which the people have acknowledged and repeatedly endorsed with their votes," he pointed out.
On the issue of drugs, Capt Amarinder said a lot had been achieved although the problem still persisted as Pakistan continued to smuggle narcotics into Punjab, which was also getting drugs from Nepal, Kashmir, Delhi and Kandla, among other places. The state government had joined forces with the neighbouring states and was successfully battling the menace, he added.
Sant Brar rejoins Congress
Muktsar: Sant Singh Brar, who unsuccessfully contested the 2007 Assembly polls as an Independent and as SAD nominee from Gidderbaha in 2012, is nowadays campaigning in favour of Congress' Raminder Amla for the Jalalabad bypoll. Brar was earlier associated with the Congress and remained on various posts in the party. TNS